John Avlon Dismisses GOP 'Talking Points' on Christie's 'BridgeGate' Even While Agreeing with Them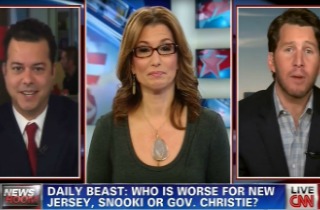 With a weekend's remove from the fevered tempo of breaking news and hyperbolic commentary surrounding revelation that members of New Jersey Gov. Chris Christie's staff reveled in the frustration caused by the closure of two lanes of the George Washington Bridge, some perspective is starting to creep into the debate over this latest political scandal.
The passions that this controversy has awakened among the commentary class, one with the potential to derail the Republican Party's most effective presidential prospect, are understandable. While this episode drove some commentators to embrace wildly unrealistic predictions about the governor's ailing political health, most have begun to concede that – barring more revelations about Christie's personal involvement in the seemingly vindictive episode involving the bridge – the impact of this controversy on the governor's 2016 prospects is likely to be limited.
A Monday morning debate on CNN reflected this increasingly apparent reality. But coming to terms with the fact that "Bridge-Gate" does not yet possess the elements required to derail Christie's political career appears to be a disappointing admission for some.
When The Blaze columnist Will Cain and The Daily Beast Executive Editor John Avlon appeared on CNN to debate the scandal, both CNN contributors agreed that, given the Garden State's history of political corruption, this particular controversy has been "blown way, way out of proportion." Avlon agreed with this statement, but oddly attempted to disqualify his own agreement by attacking Cain as resorting to "talking points."
Avlon opened the segment by discussing a recent column of his in which he lamented the fact that Christie, one of few beloved New Jersey icons, has been irreparably tarnished by this most recent scandal leaving only Bruce Springsteen as the last unsullied Garden State hero.
"It's objectively wrong, if it's true. It's an abuse of power, if it's true," Cain said of the bridge closures. "I also know it's probably been way, way blown out of proportion when compared to other abuses of government power." Cain specifically cited the scandal involving the Internal Revenue Service's admitted targeting of conservative groups with undue and unequal scrutiny as an example of controversy with more far-reaching implications.
At this point, Avlon laughed and interrupted Cain with what one expected was going to be a counterpoint. "Conservatives have been trying to pivot this back to Obama all weekend with the talking points," Avlon protested. "In the context of New Jersey corruption scandals, as bad as this is, there have been far, far worse."
So, Avlon agreed with Cain, but he apparently thought that the introduction of an apt comparison lacked "context" and represented an appeal to "talking points." As opposed to, for example, the empirically enlightening introduction of "Snookie" and Springsteen into the discussion surrounding this scandal.
Cain did obliquely reference President Barack Obama who, objectively, has been personally involved in abuses of political authority that far outstrip those of Christie, who still has not been directly linked to the bridge scandal. The IRS abuses are an appropriate foil, as are this White House's various carve-outs, exemptions, and delays of the Affordable Care Act's provisions designed to allay the concerns of Obama's political allies about the law.
But another instance of presidential authority being abused is headed to the Supreme Court. This year, the nation's highest court will decide whether the president's many recess appointments while Congress was in session constitutes a violation of his constitutional authority.
Avlon appears to bristle at the comparison between Christie and Obama but, upon review, he has a point – it is merely a "talking point" to compare the two. Obama's personal involvement in the above scandals is, at the moment, far more serious than Christie's peripheral attachment to the "Bridge-Gate."
Watch the clip below via CNN:
[Photo via screen grab ]
— —
> >Follow Noah Rothman (@NoahCRothman) on Twitter
Have a tip we should know? tips@mediaite.com