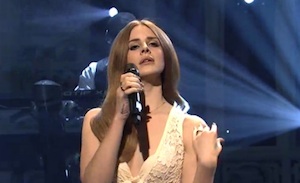 Not since Ashlee Simpson performed the hoedown has an SNL performer botched a performance as bad as Lana Del Rey did as the show's musical guest last night.
During her "act," Del Rey swayed stiffly and disjointedly mumbled her lyrics as stunned audience members looked on. The level of excruciating badness was so palpable, it felt like a wake; you almost had to feel sorry for her.
Perhaps it was nerves, as the upstart performer had never performed for as large an audience before, but whatever the reason, Del Rey crashed and burned.
Several Twitter celebs took turns excoriating the songwriter, most notably, actress Juliette Lewis, who tweeted, "Wow watching this 'singer' on SNL is like watching a 12 year old in their bedroom when they're pretending to sing and perform. #signofourtimes." (The tweet was later removed).
BuzzFeed thought she had to go to the bathroom during her performance. "Lots of swaying in one place, awkward twirling, hair adjusting, and leg squirming. If she didn't have to pee by the end of the performance, I sure did."
Many viewers confusedly (or humorously) tweeted if the singer was really Kristen Wiig making a joke:



The critically-panned performance could've been predicted, as MTV asked Del Rey about whether SNL was taking a huge risk in having her headline the show.
"I don't think they've ever had anyone perform who didn't even have a record out, so I do appreciate it," she told MTV News last week. "I'm a good musician. And I may not have a record out now, but I have been singing for a very long time, and I think that Lorne [Michaels] knows that, and everyone over there knows that. It's not a fluke decision."
Whether or not Kristen Wiig was really playing a practical joke on us or if Del Rey actually did perform that way, SNL might want to reevaluate how they choose musical guests.
Watch Del Rey's abominable performance of "Video Games" — if you dare:

And her performance of "Blue Jeans":

(h/t Daily News)
Have a tip we should know? tips@mediaite.com