Was Obama's Skeet-Shooting Image Photoshopped? Kirsten Powers And Fox Panel Weigh In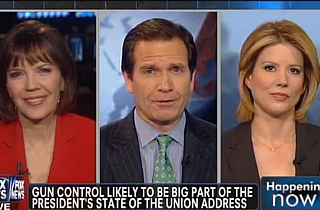 Appearing on Happening Now this afternoon, Fox contributors Kirsten Powers and Judith Miller tore into the controversy over the White House's photos of the president skeet-shooting, calling the "photoshop conspiracies" a "distraction" from the real issues at hand.
To launch a discussion on the media's treatment of such issues, host Jon Scott played the clip of Piers Morgan firing a machine gun at a Texas gun range and remarking how "incredible" it is that someone would want a $45,000 heavy piece of weaponry. He also ran through last week's "skeet-gate" controversy, in which many accused the White House of releasing a skeet-shooting photograph purely for political purposes.
"The president obviously put out that photo because he wants gun owners out there to think that he's just one of them, he's a regular guy who shoots skeet on the weekends and end joys blasting a shotgun," Scott said. "Did it work?"
Conservative commentator Judith Miller defended the president, saying, "The White House has had to respond to these ridiculous charges of what the Washington Examiner memorably called 'skeetgate.' This is absurd. It doesn't matter whether or not the President of the United States shoots clay pigeons regularly or ever on weekends. I really don't care. This country has so many important issues facing it … and we're worrying about whether or not a photo is accurate?"
Miller, a supporter of stricter controls on so-called "assault weapons," lamented that the president has to "compete with trivia about whether or not this photo was genuine" while trying to sell his proposals to reduce gun violence.
Powers differed slightly, adding that she is "always for transparency, and so I think if the president talks about something, why not release the photo?" However, she added, the photoshop questions are "beside the point" and "silly." In the end, she said, whether or not the president enjoys skeet shooting has no bearing on whether "assault weapons" should be banned.
Later on, Powers said "I think going after the guns is very hard, and [Obama] doesn't have a lot of support in Congress, and it's a toxic political issue in the country, people are divided. So I applaud the president, actually, for taking this on." She agreed with Miller that the president must also "take on" mental health issues, but, she said, "it doesn't change the fact that — I have to agree with Piers Morgan — I think it's shocking that someone in our country owns a gun like that. That's just not necessary, and I don't think that's what our constitution protects."
As Scott attempted to interrupt, Miller tore into the gun owners who want to own heavy firearms as seen in the CNN video: "Who paid the $45,000 for that weapon that he sold? I mean, what are they doing with it? Are they putting it in a museum or in a collection? I mean, what's going to happen with weapons like that? Should ordinary citizens have them without background checks if they're mentally ill?"
"They shouldn't have them ever," Powers said. "I don't care if there's a background check or not. It's absurd."
When the host noted that he "knows a guy" who enjoys collecting such weaponry, Powers scoffed, "For what?"
"Just uses it to relax," Scott replied.
"Well, take a Xanax," Powers concluded.
Watch below, via Fox:
— —
>> Follow Andrew Kirell (@AndrewKirell) on Twitter
Have a tip we should know? [email protected]