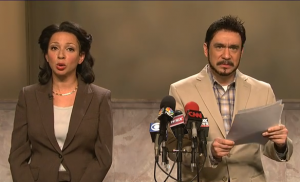 Saturday night's SNL was a packed affair, with fan-favorite guest host Betty White, returning SNLers Tina Fey, Amy Poehler, Ana Gasteyer, Molly Shannon and Rachel Dratch, plus musical guest Jay-Z, and of course the regular players — it's no surprise that there were simply too many good sketches to make it to air. Classic sketches like "Debbie Downer" and "Bronx Beat" ended up as web-only extras — along with a funny sketch lampooning the Times Square bomber. All funny — except the Times Square bomber sketch had been leaked to Politico's Patrick Gavin earlier that day.
That's unusual. Tweets from dress rehearsal, fine — but a script leak? Gavin's item excerpted a big chunk of text, which was almost identical to that which ended up being filmed*** — and thus, pretty much gave away the joke, and the lion's share of the punchlines. Later, when the sketch didn't run, Gavin tweeted "Source tells me: 'They are really upset over at NBC about that script leak.'"
So: were they upset enough to pull the sketch? Or did it get weeded out in the normal order of things? That question mark in the headline above is genuine — we don't know. An NBC PR for SNL declined to comment to Mediaite's Steve Krakauer on the subject. But an SNL-insider dismissed my speculation, saying that there had been no buzz about that sketch, or any controversy: "Bronx Beat and Debbie Downer would have made it ahead of that — I think they wanted as much Betty as they could get, and that just didn't have it."
(That flies in the face of my rationale for having it — to give Betty White a break! — but rarely have I seen an SNL host who looked less like she needed one.)
Gavin noted on Twitter that he thought the bomber-sketch would have made a more effective cold open than Lawrence Welk; I will admit that that was my initial impression as well. But then I realized I was applying the standard of a normal show, and this was an extraordinary show — one in which the host and the returning guest stars trumped pretty much everything else. "Think about that as your cold open vs. all of those great women sharing "Live From New York" with Betty White," said my source. "Completely changes the show."
Well yes, it sure does. Does that mean NBC and SNL brass weren't upset over the leak? Of course not. And who knows, that may have factored into the eleventh-hour decision of what stays and what goes come 11:30 p.m. But for this show, on this night, the funny — and the Betty — probably won out. So, our ruling is: No, the SNL Times Square Bomber sketch was not cut because of the Politico leak. But that doesn't mean NBC PR wants to talk about it.
At least they didn't leak the muffin sketch. That might have been too hot even for Politico. And moist. Video below.


***Attention, Noel Sheppard of Newsbusters: That's *almost* identical — you might want to fix the text you pulled that just happens to be identical to Gavin's but not quite on par with the sketch itself…and in that vein, you might want to credit and link to Gavin, too. Oh and you might also want to actually watch SNL – then you'd know the sketch didn't actually air "last evening," or any evening. Just sayin'.
Have a tip we should know? tips@mediaite.com