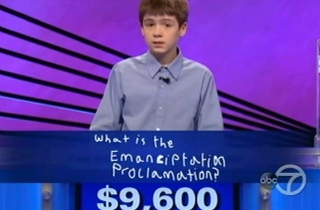 An eighth-grader claims he was "cheated" by Jeopardy! judges last week when they ruled that his misspelling of the "Final Jeopardy" answer disqualified him from receiving credit, despite intending to write the correct answer.
On Wednesday's edition of Jeopardy!, young Thomas Hurley III of Newtown, Conn., correctly identified the final round's clue to be about the Emancipation Proclamation signed by President Abraham Lincoln in 1863. But because Hurley spelled it "emanciptation," the judges ruled against him, costing him the $3,000 winnings he bet.
Host Alex Trebek initially read the answer to be correct, but then stopped himself when the judges ruled that Hurley had so "badly misspelled" the word that it became incorrect. Hurley hung his head in embarrassment as the audience gasped.
Even though Hurley finished well behind the first-place contestant, he has spoken out about his being "cheated" by the show over what was "just a spelling error."
His displeasure was clearly visible during the broadcast's conclusion, as he stood with arms folded and pouted as his mother attempted to console him on-stage.
Despite the controversy generated, Jeopardy! producers remain confident that it was the right to decision to penalize Hurley's spelling error. "If `Jeopardy!' were to give credit for an incorrect response (however minor), the show would effectively penalize the other players," they said in a statement. "We love presenting young people as contestants on our show and make every effort to be fair and consistent in their treatment."
Watch the clip below and judge for yourself (poll below), via Jeopardy Productions, Inc.:
— —
>> Follow Andrew Kirell (@AndrewKirell) on Twitter
Have a tip we should know? tips@mediaite.com