'Was This Trial A Racial One?': The View Co-Hosts Grill Zimmerman Defense Lawyers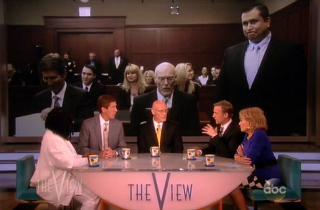 George Zimmerman's two defense lawyers sat down with the co-hosts of The View this morning to face a grilling over whether their defendant's trial was a "racial" one, whether they've received payment for their legal services, and whether the Department of Justice will take up federal action.
"[The DOJ] interviewed over 45 people to see whether or not George Zimmerman — it's going to sound strange — acted in a way that violated Trayvon Martin's civil rights by shooting him," defense attorney Mark O'Mara explained on the latter question. "It has to be based upon some inappropriate reason like a race-based reason. They have done that investigation for over a year and they have not come to any conclusion that there's any suggestion of a racial component to this."
"Have you guys been paid?" guest co-host Dan Abrams inquired.
"No. I would like to be one day," O'Mara responded. "I truly would."
"With all these George Zimmerman defense funds, etc., where did all that money go to?" Abrams challenged.
"It went to fund the defense," the lawyer replied, explaining that he has been "keeping track of [his] time" and hopes that Zimmerman one day has the money to pay the legal team.
Whoopi Goldberg spoke up to grill the two lawyers on whether Zimmerman first spotted Martin that fateful night "because he was a young black man?"
"I think it played a part, absolutely," answered O'Mara.
"Wouldn't that justify the Justice Department looking into it?" Goldberg asked to audience applause.
"If they had found any evidence of racism in George's background, then they would have been able to use that information to say this is the way that George Zimmerman was looking at Trayvon." He added: "He was looking at Trayvon as a person who was black, but not looking at him solely because he was black."
Goldberg pressed further, asking O'Mara to explain why Zimmerman would assume the young black Martin would fit the profile of recent burglaries in the neighborhood, prompting the lawyer to ask a question in return: "Because he is black can he never look suspicious?"
"Walking down the street, I kind of think, no," Goldberg replied. "Because I'm black And I walk down the street. If somebody says I think you may snatch my pocketbook I'd be pissed, that's just me."
Asked whether he views this to be a "racial trial," O'Mara said that it has "brought to the forefront racial questions that have to be answered in the criminal justice system," despite his belief that Zimmerman did not act "at all in a racially-based way." We need to have a conversation, the lawyer said, about the way young black males generally do not receive a fair trial.
Watch the segment below, via ABC:
— —
>> Follow Andrew Kirell (@AndrewKirell) on Twitter
Have a tip we should know? tips@mediaite.com