Washington Examiner Reporter Philip Klein Slams Wasserman Schultz For 'Smearing Me On TV'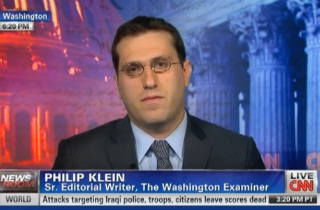 Following a heated debate with Congresswoman Debbie Wasserman Schultz, in which she maintained that she was "misquoted" by The Washington Examiner over her remarks about Republicans and Israel, CNN's Don Lemon invited the article's author Philip Klein to respond to her claims and correct the record.
Lemon began by playing the entire 75-second audio clip of the congresswoman's remarks on Israel, to ensure that nothing was taken out-of-context, and then proceeded to pointedly ask Klein: "Did you misquote Debbie Wasserman Schultz?"
Klein responded that the congresswoman, in her Saturday CNN appearance, had "made two egregious, factually incorrect accusations about me. The first was that I deliberately misquoted her. That's not true. If you look at my initial report, I not only quoted the part of what she said about the Israeli ambassador, i actually included an entire paragraph long quote in which she elaborated on that point that she was making."
"Not only that," he continued, "I subsequently posted the audio which you just played. […] I purposely not only quoted the part about the ambassador, I left 30 seconds of audio on either side of it so that everyone could see what was leading up to that comment and what she said after it so it is clear that I wasn't quoting out of context."
Lemon then mentioned that the congresswoman claims there was an "inference" which Klein missed and resulted in a misquoting of her remarks.
"She claims that I wrote and that I reported that she was criticizing Republican policies on Israel and saying those were dangerous for Israel and she's saying what she really meant was that when Republicans criticize President Obama's record on Israel, it turns Israel into a political football and that's what undermines Israeli security," Klein pointed out, adding, "But the problem with that is, I never used the word policies in my initial report. I never said policies. not singular, not plural, not in any way, shape or form."
"She evidently thinks it is easier to attack a conservative journalist and smear me on TV than go after the Israeli ambassador" who had used the word policies, Klein noted.
"She specifically said 'The Washington Examiner deliberately misquoted me.' That's a direct attack and a smear on my reputation as a reporter. And I resent that because I was meticulous in quoting that, particularly because I know it is easy for people to try to smear conservative journalists as somehow being sloppy and partisan," Klein continued.
A sympathetic Lemon added: "This isn't about right or left. This is about holding a lawmaker, a leader accountable for her words, her remarks, and her actions. That's what this is about."
Watch below, via CNN:
— —
>> Follow Andrew Kirell (@AndrewKirell) on Twitter
Have a tip we should know? tips@mediaite.com