Washington Free Beacon Ruthlessly Blasts, Forgives Andrea Mitchell for Criticizing Hillary Scoop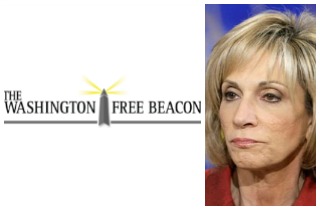 The Washington Free Beacon's Alana Goodman scooped the political journalism industry on Sunday night when she enterprisingly traveled to Arkansas to survey the documents of a late friend of former Secretary of State Hillary Clinton. Those documents, available to the public since 2010, had not been previously combed by reporters for newsworthy nuggets. Goodman filled the void and drove the news cycle with her revelations about Clinton's candid views on health care reform and Monica Lewinsky.
And that, apparently, really stung NBC News reporter and MSNBC host Andrea Mitchell. During a report on the documents which aired on local NBC networks nationwide and was rebroadcast on MSNBC on Tuesday, Mitchell refused to name either the reporter or the outlet which broke the story. Instead, Mitchell referred to the Washington Free Beacon as an "anti-Clinton website":
The swipe at the Free Beacon and the inherently dismissive and delegitimizing nature of her description of the publication seems to have irked WFB's founder, Michael Goldfarb. In an interview with The Daily Caller, Goldfarb protested Mitchell's characterization of both his website and the story:
"The piece wasn't anti-Clinton, and our website isn't anti-Clinton, but occasionally the facts are anti-Clinton–and when they are we report them. In this case, some of the documents showed Hillary as ruthless and calculating and vindictive, others showed her in quite a sympathetic light."
He then adopted a tone as condescending as Mitchell's while both reprimanding her and, in the same sentence, forgiving her impertinence. Goldfarb attributed Mitchell's scorn to her "advanced age":
"It's a shame that Mitchell couldn't be more graceful in crediting our reporter Alana Goodman for her impressive work, but given her advanced age and deep partisanship–we forgive her for it. You don't get angry at your grandmother when she says something rude and uninformed, you have to be patient and understanding."
The Daily Caller made note of the many personal connections Mitchell has to the Clinton family which may make her a less-than-neutral arbiter of facts that have the potential to cast Hillary Clinton in a negative light.
Read the full post via The Daily Caller
[Photo via screen grab/WFB]
— —
> >Follow Noah Rothman (@NoahCRothman) on Twitter
This is an opinion piece. The views expressed in this article are those of just the author.