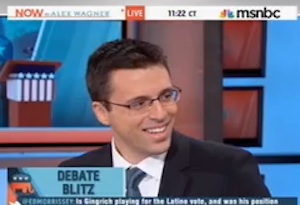 On MSNBC's Now with Alex Wagner, Washington Post columnist Ezra Klein speculated that Mitt Romney possibly had peaked too early in the Republican nomination race. "Romney has yet to stumble in a debate, he has yet to make a mistake, he has yet to have a good ad released into the field against him. I sort of wonder a little bit given that he's yet to pick up a single voter from the collapses of Rick Perry, Herman Cain, — I mean, I'm just going to predict the eventual collapse of Newt Gingrich — if he gets that stumble which will come at the wrong time — I sort of wonder if Romney hasn't peaked too early. I'm not saying he's not the overwhelming frontrunner, but he has not moved in the polls he would need one stumble to be in the 14-15% percent, right?"
Klein was responding to the National Review's Elise Jordan argument that Newt Gingrich had reached his polling zenith and his comments on immigration during yesterday's debate would begin to sour him among primary voters. "I think that Newt has peaked way too early in terms of actually getting the nomination, and so he's having his moment, just like so many other candidates have had their moment too."
Host Alex Wagner compared Romney to a budding flower that refuses to go into bloom.
"He's the flower you get from the flower store," Wagner explained. "And it's just opened a little and you think you're going to take it home, and it's going to blossom, and it stays at half, sort of…"
"I've had that happen so many times!" Klein exclaimed.
"That's quite a metaphor," added Politico reporter Ben Smith
Watch Klein's analysis of Romney below via MSNBC:

Have a tip we should know? tips@mediaite.com