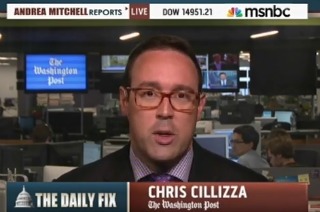 In a discussion about President Barack Obama's forthcoming push for reforms to college tuition costs, The Washington Post's The Fix blogger and reporter Chris Cillizza was asked how the president can keep on message given the "gnats of August" regularly redirecting his attention. Cillizza pardoned Obama for his inability to be the master of his own destiny, saying that he is the first president in history to have to contend with the fleeting passions that regularly overtake internet forums like Twitter.

MSNBC host Chris Matthews' wife, Kathleen Matthews, asked Cillizza how Obama is navigating the "gnats of August" which are vying for his attention. She cited Se. Ted Cruz (R-TX) opposing the funding and implementation of the Affordable Care Act as one such "gnat."
"Staying on message," Cillizza began, "is always, sort of, part of being president. It's very difficult."
RELATED: Obama Decries 'Phony Scandals' That 'Distract' From Economic Action: 'This Needs To Stop'
"You have unforeseen things running into what you want to do," he continued. He said that spontaneous events prevented Obama from fulfilling his oft-repeated promise in 2012 to "pivot" to focusing on the economy.
I actually think that problem is even more exacerbated now because of the rapidity of the news cycle," Cillizza insisted. "Because of Twitter, because of, sort of, YouTube, because of all of the ways in which you can get distracted and off messaging and being forced to respond to things."
Cillizza blamed "buzz on the internet" for forcing Obama to reveal his long-form birth certificate after months of prodding from sources like Donald Trump.
"That's a unique thing that President Obama is the first Twitter era, social media era,
Watch the clip below via MSNBC:
> >Follow Noah Rothman (@NoahCRothman) on Twitter
Have a tip we should know? tips@mediaite.com