Wasserman Schultz Ignores GOP Condemnations of Trump While Touting Clinton's Talking Points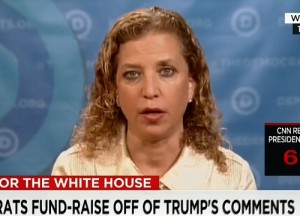 During her Wednesday appearance on CNN, Democratic National Committee chair Debbie Wasserman Schultz suggested that Republican presidential candidates, lawmakers and pundits have not gone far enough in their criticism of Donald Trump's proposed Muslim ban. Meanwhile, she paraphrased Democratic presidential candidate Hillary Clinton's Trump talking points without even trying to hide it.
Despite countless condemnations from Democrats and Republicans alike, including Sen. Lindsey Graham's (R-SC) spirited "go to hell" remarks on Tuesday, Wasserman Schultz argued that Republicans weren't doing enough to denounce Trump's proposed ban on Muslim immigration into the United States. She called it "mealy-mouthed criticism" and suggested that Republican National Committee chair Reince Priebus require all candidates to sign a new pledge — this time requiring signers to refuse to support Trump's candidacy.
The thing is, Wasserman Schultz's call for a new Republican pledge echoed what Clinton wrote in an essay published on Tuesday.
"Some Republican candidates are saying that Donald Trump's latest comments have gone too far," she said. "But the truth is, many GOP candidates have also said extreme things about Muslims. Their language may be more veiled than Mr. Trump's, but their ideas aren't so different."
CNN anchor Joe Sciutto noticed the similarity between Clinton's talking points against Trump and what Wasserman Schultz was saying on the air, so he called her out.
"The argument you just made was echoed by Hillary Clinton on the campaign trail yesterday," he said.
Wasserman Schultz responded, "That's right."
On the one hand, lumping all the Republican presidential candidates into one amorphous lump is unfair. Not only to the politicians themselves, but to what they've actually said on the campaign trail up to this point.
Yes, Ted Cruz proposed a bill that would ban Syrian refugees who were Muslim from entering the country. Yes, Jeb Bush echoed Cruz's sentiments but stressed that there was no need to ban anyone (although he did talk about Christian refugees a lot). Yes, Chris Christie vowed to refuse refugee "orphans under five."
All of these points and others like them are troubling, but none go as far as to suggest that all Muslims — refugees, immigrants, tourists — should be banned outright from entering America. So for Wasserman Schultz to group all of the Republican presidential candidates together under an otherwise divided party's umbrella is quite the stretch. Especially when said grouping assumes that all or most Republicans are like, or believe in, Donald Trump.
One the other hand, this is rich. Especially when one considers Wasserman Schultz's apparent preference for Clinton's candidacy. By focusing all of her and the party's energies on a single candidate long before voters have had proper time to consider their options, she is ignoring the Democratic Party's potential for political diversity. (Let alone democracy.)
Basically the DNC chair is ridiculing the GOP et al. for its supposed inability to rally around the cause of ousting Trump from the running for the Republican nomination. Meanwhile, she's too busy forcing the Democrats to rally around Clinton's candidacy by forcing out the likes of Lincoln Chafee, Jim Webb, Martin O'Malley and Bernie Sanders from the running for the party nomination.
At least she didn't lie when Sciutto asked her about repeating Clinton's Tuesday comments.
Check out the clip above, via CNN.
[Image via screengrab]
— —
>> Follow Andrew Husband (@AndrewHusband) on Twitter
Have a tip we should know? tips@mediaite.com