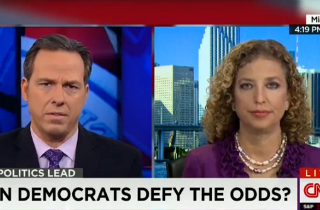 Despite polling and media consensus to the contrary, DNC chair and Rep. Debbie Wasserman Schultz (D-FL) is certain the Democratic Party will hold the Senate after Tuesday evening's midterm elections.
Asked whether she agrees with Vice President Joe Biden's assessment that the Democrats will keep control of the Senate but will learn lessons about compromise, Wasserman Schultz told CNN's Jake Tapper: "We're going to hold the Senate tomorrow night."
She cited a "superior ground game" and bigger Democratic absentee turnout as reasons she believes the Democrats will fend off a Republican sweep.
Tapper was not convinced, however, telling her: "I guess we'll see."
He later pressed the congresswoman on whether it's been a good strategy for "so many Democrats to distance themselves from President Obama as much as they have" or whether they should have talked more about the president in a positive way.
"The president really is our best asset," Wasserman Schultz insisted, with Tapper pushing back that the president hasn't actually been deployed. "I'll stack up our surrogates against Republican surrogates any day," the congresswoman replied.
The CNN host continued to grill the chairwoman, telling her that her outspoken support for the president is something he hasn't heard a lot from Democratic candidates this cycle. "Do you think it's time to get a new playbook for Democrats?" he asked.
Wasserman Schultz insisted the Republicans have campaigned on a message of "obstructionism," and, should they take over the Senate, "voters across the country will reject their brand of Republican tea party extremism."
"We'll see tomorrow," a clearly skeptical Tapper concluded.
Watch below, via CNN:
— —
>> Follow Andrew Kirell (@AndrewKirell) on Twitter
Have a tip we should know? tips@mediaite.com