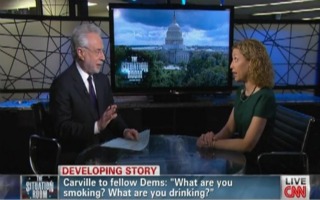 Democratic National Committee Chair Rep. Debbie Wasserman Schultz (D-FL) appeared on CNN's The Situation Room with Wolf Blitzer on Tuesday where she said that those sounding a note of alarm, like Democratic strategist James Carville who warned recently that Democrats have become complacent, need to be peeled "off the roof." She further insisted in that interview that Republicans and Mitt Romney have displayed an obsession with elevating social issues to the forefront of the national dialogue above economic concerns.

RELATED: Will Cain Tangles With Debbie Wasserman Schultz: Why Are 'You Guys' Waiting To Address Budget Issues?
Blitzer asked Wasserman Schultz to respond to Carville's recent column in which he chides his fellow Democrats for overconfidence that President Barack Obama is a shoo-in to be reelected.
"WTFU. Translated – wake the you-know-what up, there is an earthquake," wrote Carville. "What are you smoking? What are you drinking? What are you snorting or just what the hell are you thinking?"
"Well, I guess it's my job to peel folks like James Carville off the ceiling, because it's certainly not time to panic," said Wasserman Schultz. "I haven't noticed complacency at all." She went on to say that she had witnessed a lot of focus among supporters of President Obama.
Blitzer cited the findings in the latest CBS/New York Times poll that showed 32 percent of respondents rated the economy as "good" while 67 percent said it was "bad."
"You agree, the economy is issue number one," asked Blitzer.
Wasserman Schultz responded that job growth was priority number one and touted President Obama's record of creating private sector jobs and "fighting for the middle class." She contrasted that with the campaign of Mitt Romney who Wasserman Schultz says is fighting only for tax cuts for the already wealthy.
Blitzer said that Republicans have accused President Obama and the Democrats of running a campaign of distraction, attempting to lead voters away from discussing the economy.
"Really," asked Wasserman Schultz. "What I've noticed is that the Republicans are really good at projection. Because, which means that, anything that actually applies to them they try to put on their opponents."
Wasserman Schultz said that it was Romney and the Republicans that were exclusively focusing on divisive social issues. Blitzer challenged her assertion, but Wasserman Schultz continued to insist that Republicans have made issues like defunding Planned Parenthood and the repeal of the Affordable Care Act as evidence of their obsession with social issues.
Watch the segment below via CNN:
Have a tip we should know? tips@mediaite.com