GOP Congressman Bizarrely Defends Trump: 'You Could Easily Argue' Obama Is Racist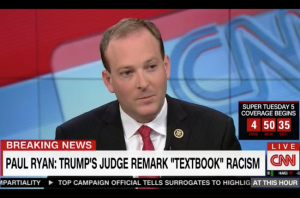 This was probably not the interview that New York state Representative Lee Zeldin had in mind.
The Republican Congressman sat down with CNN's John Berman and Kate Bolduan Tuesday morning to address his support for Donald Trump head-on in the aftermath of the newest controversy embroiling the campaign. Trump, the party's presumptive nominee for President, has been arguing that an Indiana-born judge of Mexican heritage can not fairly oversee a lawsuit involving Trump University given the candidate's proposed southern border wall.
Shortly after House Speaker Paul Ryan called Trump's comments — but not the man — "textbook racism," Representative Zeldin had a tougher time walking that razor-thin tight rope.
"I think that Mr. Trump made a regrettable mistake with his statement," Rep. Zeldin admitted.
But as soon as Berman and Bolduan turned up the heat on Zeldin to hold him accountable for defending someone embattled in a controversy of racism, Zeldin seemed to buckle and squirm with discomfort.
"Congressman, this is very important. You agree with Paul Ryan," said Bolduan. "You agree on this already stunning statement coming from the House Speaker, that what Donald Trump has said is the textbook definition of a racist comment. If Donald Trump, in this comment, is engaging in racism, are you still comfortable supporting him?"
Zeldin nearly fractured his hip dancing around the question with his best political non-answer, which prompted further follow-ups from the CNN anchors. "Are you saying 'Yes he's a racist, but he's our racist'?" pressed Berman and "Is a little bit racist OK?"
Smelling blood in the water (blood being the fact that Zeldin, along with his pro-Trump counterparts, are stuck between a rock and an impossibly tough hard place on this issue) the anchors continued to hit the Congressman for his lack of substantive responses. "Sorry though," Berman interrupted, "What would you call someone who makes racist statements?"
Rep. Zeldin gave a rambling response about "offensive microtargeting," which seemed to fool just about no one, and eventually offered up this stunning defense (emphasis mine):
There's more than just words to define a person and, by the way, aside from words, there's a whole lot more to define everyone, but you can easily argue that the President of the United States is a racist with his policies and his rhetoric.
Watch the above interview from CNN and try not to squirm too much.
—
J.D. Durkin (@jiveDurkey) is an editorial producer and columnist at Mediaite.
[image via screengrab]
Have a tip we should know? tips@mediaite.com