Watch Aaron Schock Uncomfortably Dodge CNN Questions About His Lavish Spending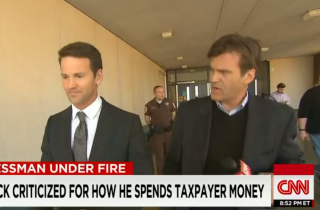 As readers likely known, Rep. Aaron Schock (R-IL) faces an onslaught of questions about reports on his use of taxpayer money to fund a lavish congressional lifestyle including a Downton Abbey-style office, expensive trips, fancy dinner events, and a professional photographer.
Our own Tina Nguyen has been at the forefront of chronicling and unearthing the congressman's ethics problems — especially the fact that even though he claims to be ignorant of the ethics laws, he sure seems to have known his rules when he judged an episode of Top Chef.
-RELATED: Aaron Schock Is the Worst Collection of Millennial Stereotypes in Politics
Suffice it to say, amidst the building controversy, Schock has been quite reluctant to answer questions, while maintaining his pristine image as an aw-shucks congressman who just wants to represent the folks.
Enter CNN reporter Drew Griffin, who confronted the lawmaker after a speech at an Illinois high school Wednesday afternoon. As you will see from the video, there's a reason we named Griffin to our list of "rising cable news stars" last year: This is one of the most persistent, take-no-bullshit interview attempts we've seen in recent months.
While local reporters stood around in a deferential, clearly uncomfortable manner, Griffin took charge of the presser by asking Schock immediately: "Can you explain this lavish lifestyle?" With a knowing smirk, Schock looked directly at the reporter and said, "Does anyone have any questions about today's event?"
When asked again later on, Schock finally answered without fully acknowledging the question, instead delivering a boilerplate response about how he's hired a third party to help sort out the ethics questions internally.
A weaker reporter would simply accept Schock's passive-aggression as a sign to back off, but Griffin persisted even as the lawmaker defiantly turned away from him and pretended to field questions from the much younger local gaggle. When it became clear these terrified spring chickens weren't going to ask questions about "today's event," Schock just walked away while Griffin continued rattling off questions.
Bravo. Watch below, via CNN:
— —
>> Follow Andrew Kirell (@AndrewKirell) on Twitter
Have a tip we should know? tips@mediaite.com