According to MSNBC, Jeb Bush Is Now the GOP's Only Hope
Rothman: According to MSNBC, Jeb Bush Is Now the GOP's Only Hope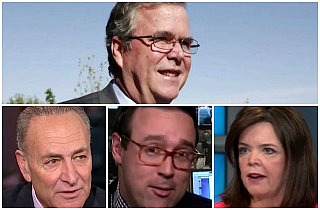 Republicans have but one savior ahead of 2016 and his name is Bush. That is the takeaway from watching much of MSNBC's programming this Monday after former Republican Florida Gov. Jeb Bush issued the clearest signal yet this weekend that he is considering a presidential bid in 2016.
A series of commentators and guests appeared on that cable news network to weigh in with their thoughts on a potential Bush candidacy in 2016. Perhaps unsurprisingly, most were convinced that Bush was the strongest possible GOP candidate to take on former Secretary of State Hillary Clinton in a general presidential election.
Alas, a variety of MSNBC guests submit, the Republican Party's myopic, thoughtless, and insufficiently demographically conscious primary voters are likely to sacrifice their one shot at the White House by overlooking Bush's conservative bona fides due solely to their antipathy toward immigration reform.
"He's showing where people are at," Sen. Chuck Schumer (D-NY) told the hosts of Morning Joe regarding Bush's position on immigration. Schumer added that, if the party does not embrace Bush's version of immigration reform "this year," the 2016 cycle is "almost certainly" already lost to Republicans.
MSNBC.com Senior Editor Beth Fouhy, in an appearance on MSNBC's Jansing & Co., observed that the GOP's long term prospects as a part are "growing narrower and narrower" even though they are well positioned to pick up control of the Senate in November.
"If they're only going to be the party of older white people, they cannot win at a national level," she added. "And that's why, perhaps, Jeb Bush thinking of getting into the 2016 race is giving them a glimmer of hope, because he is talking about being more compassionate toward minorities, toward immigrants."
"Most people agree — Republican, Democrat, independent, whoever you are — Jeb Bush would be a strong general election candidate for Republicans," The Washington Post's Chris Cillizza observed. He noted in passing, though, that the "brand problems" associated with his brother's presidency persist though he did not seem believe that would be more of a disqualifier in a GOP primary than a general election.
And all this before 1 p.m.
As forward-thinking and accomplished a presidential candidate as Jeb Bush may appear to be to MSNBC's guests and analysts, it is unlikely he will retain those credentials if he became the nominee — a fact of life to which those nasty GOP primary voters have become all too accustomed.
Watch the clips below, via MSNBC:
UPDATE: Shortly after 1 p.m. on Monday, MSNBC host Ronan Farrow dubbed Bush's statement regarding illegal immigration being "an act of love" a "refreshingly nuanced" comment. He and his fellow guests determined that Bush's comments made him the program's "hero of the day."
[Photo via screen grabs ]
— —
> >Follow Noah Rothman (@NoahCRothman) on Twitter
Have a tip we should know? tips@mediaite.com