WATCH: Amazing 9-Year-Old Who Saved His School By Standing Up To Chicago Mayor Emanuel Talks To CNN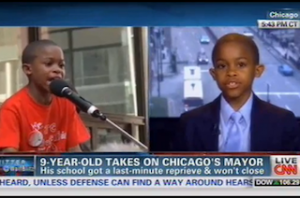 Tuesday afternoon on The Situation Room, CNN's Wolf Blitzer conducted an interview with a 9-year-old boy who's making waves in the ongoing crisis of Chicago public school closings. Third-grader Asean Johnson effectively saved Marcus Garvey Elementary School from becoming one of the dozens of schools closed this month when he delivered a passionate speech against Mayor Rahm Emanuel during a recent protest.
The young Johnson told Blitzer that he didn't attend the rally prepared to speak, but when his teacher asked him if he would, he said yes, and "spoke from my heart" without a script. Asked what he would say to Mayor Emanuel, Johnson said, "the mayor should not be coming in, closing these schools" without first looking into what he can do to keep them open. He urged the mayor to properly "invest" in the city's schools instead of shutting them down. "You're closing schools that are maybe underutilized and don't have everything that you want," he said, "but you never invested in them."
Blitzer suggested that many people watching such a politically active young man might see a future president of the United States, but Johnson said his first choice is to become a professional football player. And for now, he's looking into doing some acting and modeling.
"The current president is from Chicago," Blitzer told him, "so there is a history of people coming from Chicago and winding up president of the United States. You never know what could happen, but you've got a huge future, Asean, no matter what you do."
Watch video below, via CNN:
And you can watch Johnson's full speech from the Chicago rally here:
—
>> Follow Matt Wilstein (@TheMattWilstein) on Twitter
Have a tip we should know? tips@mediaite.com