Bachmann Dances Around CNN's 'Pinprick' Limbaugh Questions, Puts Them In Perspective With Terrorist Anecdote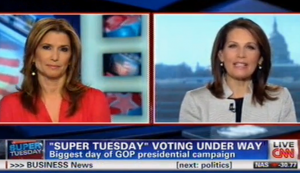 When Michele Bachmann took to CNN to discuss the Republican primary, it was hardly surprising when the topic of a "Republican war on women" came up. Bachmann, who of course was once a presidential candidate herself, repeatedly refused to comment on the Rush Limbaugh ordeal, not-so-subtly dancing around the questions. Toward the end of the segment, though, she made a valid point about the focus of national discussion.
Bachmann began by saying she won't be endorsing a candidate on Super Tuesday because she believes the people should make their choice based on their own opinions. Segueing with mention of "vicious rhetoric" and negativity among Republicans, the conversation then turned to "the Republican war on women." Asked why a Republican woman (like, say, Bachmann) doesn't come out and say Rush Limbaugh's comments were wrong, Bachmann beat around the bush mostly. Without giving any real comment on the issue, she simply stated that Limbaugh has apologized and is dealing with the situation himself.
Bachmann, after pressed further about Limbaugh, said, "Well, you know what's interesting, that's the focus that the media has taken." Meanwhile, Bachmann said she's been dealing with intelligence issues for the past few weeks:
We had an attack here, a potential attack on our United States Capitol, where we had an Islamist-inspired terrorist strap what he thought was a bomb on his body, and try to blow up our Capitol. I was in the Capitol with 435 members of Congress voting. We could have a very different discussion this morning if he would have succeeded and the FBI interdicted and stopped him just blocks from the Capitol. That's been my focus, and the media's been focusing on these little pinprick issues when, really, I think we should be focusing on these bigger issues that people really do care about and have greater impact to change the future of our nation.
While Bachmann was certainly avoiding answering questions about Limbaugh, she made a valid point about how long the media cycle stretches out (and spotlights) incidents like this when there are always larger issues at hand.
Take a look at the segment, via CNN:

Have a tip we should know? tips@mediaite.com