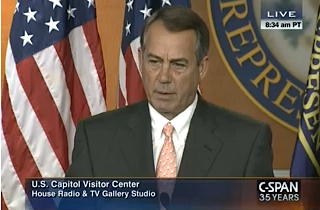 During his weekly press conference Thursday, House Speaker John Boehner (R-OH) was asked directly whether he thinks Republicans should be using the investigation over the 2012 attack in Benghazi as a fundraising tool and he refused to give a definitive answer. Dodging the question, Boehner simply said he think the "focus" should be getting answers on what happened.
"Four Americans died in Benghazi. Should the N.R.C.C fundraiser off your members of the select committee?" a reporter asked, referring to a website launched by the National Republican Campaign Committee intended to do just that.
"Our focus is in getting the answers to those families who lost their loved ones, period," Boehner replied. When the reporter asked the question once again, Boehner repeated himself, saying, "Our focus is getting the truth for these four families and for the American people." A third try for an answer received the same response for the speaker.
Yesterday, the chairman of the Benghazi select committee, Rep. Trey Gowdy (R-SC) said he did not believe the GOP should be using the attacks nor the investigation as a fundraising tool and later advised his colleagues to stop doing so.
This morning, Rep. Elijah Cummings (D-MD) told Morning Joe, "Speaker Boehner can shut this fundraising effort down right now and he should. You shouldn't be raising money with regard to this matter. Joe, if you want to send out a message, send that one."
So far, at least, it appears that Boehner has decided not to listen to his fellow members of the House.
Watch video below, via C-SPAN:
[Photo via screengrab]
— —
>> Follow Matt Wilstein (@TheMattWilstein) on Twitter
Have a tip we should know? tips@mediaite.com