Watch: Chris Christie Talks Sandy Aid at Event He Canceled over Bridgegate Revelations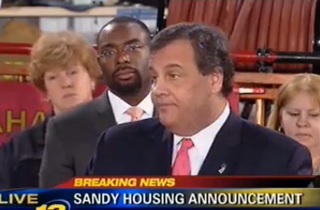 Embattled Governor Chris Christie (R-NJ) canceled an event in Stafford Township, New Jersey last week when documents revealed that officials in his administration had participated in a political retribution scheme that's now known as Bridgegate. Gov. Christie spoke at the rescheduled event today, on a subject that may become the next front in the scandal's narrative: Hurricane Sandy aid.
In the wake of the Bridgegate revelations, Hoboken Mayor Dawn Zimmer (D-NJ) revealed that her town had received less than 1% of the Sandy relief funds it had applied for, despite having been one of the hardest hit areas of the state, with over 80% of the city underwater following the storm. Zimmer wondered, in light of the Fort Lee lane closures, if this could have been another form of retribution for her failure to endorse Christie's reelection bid.
Additionally, housing advocacy groups have reported that there is a huge racial disparity in rejections of applications for resettlement grants, with a rejection rate of 38.1 percent among African-Americans and 20.4 percent among Hispanic applicants, versus 14.5 percent for white applicants.
At Thursday's event in a Stafford Township firehouse, New Jersey Department of Community Affairs Commissioner Richard Constable announced that the state will hold public hearings over the disbursement of $1.4 billion in newly-released federal relief aid.
In a nearly 20-minute speech, Governor Christie praised his administration's work on Sandy relief, while also acknowledging that completing the job was always "going to take a long time."
In the middle of the speech, Christie addressed some of the criticisms of his efforts. "Is it as fast as I'd like? No," Christie said, "because what I'd like to do is just come down here, make sure we've got everybody who is responsibly entitled to money, and write them a check. But unfortunately, the federal government's experience with that kind of work after Katrina found that billions and billions of dollars were wasted."
He also blamed delays in getting aid on the documentation supplied by applicants. "The problem with making the decision that we made, which is to put the least fortunate to the head of the line, when combined with the amount of devastation that their home has experienced, is that we need proof of all that," Christie said. "We need proof of the income and the assets you have. We need proof to say that your home is substantially damaged or destroyed. That's — every time we ask for more paperwork, it's more time."
Governor Christie added that "I'm trying to help the people who need it most first and then work our way down the line. At the end, so far that's working, because of those housing funds I just talked about, 72.9% of that money has been targeted effectively at low and moderate income folks, which is defined as families with income less than 80% of our state's median income."
The median income for a family of four in New Jersey is $99,474.
Here's the clip, from News12 NJ:
Have a tip we should know? tips@mediaite.com