Chris Matthews' Epic Meltdown Over Obama Performance: 'What Was He Doing Tonight?'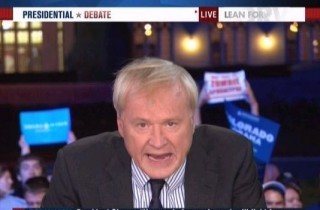 MSNBC's liberal pundits are seemingly none-too-pleased with President Obama's debate performance.
Especially Chris Matthews, the host who famously said that the president sent a "thrill" up his leg during the 2008 Democratic primaries.
Clearly disappointed in Obama's performance, Matthews lamented to host Rachel Maddow: "This tonight wasn't an MSNBC debate, was it? It just wasn't," he said.
"I don't know what he was doing out there. He had his head down. He was enduring the debate rather than fighting it. Romney came out with a campaign," continued Matthews.
The liberal host then offered advice for the president. "I know he likes to say he doesn't watch cable television, but maybe he should start. I don't know how he let Romney get away with the crap he threw out tonight about Social Security."
After directing some heated words at Romney, Matthews then recommended the president watch more MSNBC:
"Where was Obama tonight? He should watch — well not just Hardball, Rachel, he should watch you, the Reverend Al, Lawrence. There's a hot debate going on in this country, here on this network is where we're having the debate. We have our knives out, we go after the people and the facts. What was he doing tonight? He went in there disarmed."
"What was Romney doing? He was winning," concluded Matthews to the agreement of co-panelist Ed Schultz.
But he wasn't finished.
Now in a much more fired-up voice, Matthews said: "Obama should watch MSNBC. He will learn something every night. This stuff we're watching, this is like first grade to most of us. We know all of this stuff."
Watch below, via MSNBC:
— —
>> Follow Andrew Kirell (@AndrewKirell) on Twitter
Have a tip we should know? tips@mediaite.com