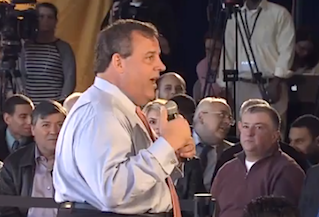 Governor Chris Christie found himself in an extended, contentious exchange with an advocate for the Affordable Care Act Tuesday during a town hall event in South River, New Jersey. Maura Collinsgru of New Jersey Citizen Action, which bills itself as the state's "largest citizen watchdog coalition," accused the governor of failing to facilitate the Medicaid expansion that is meant to help cover those who cannot afford health insurance.
When Collinsgru accused Christie's administration of answering her group's attempts at engagement with "silence" when it comes to Medicaid, Christie interrupted her. "That's not part of the silence you've been met with when I expanded the Medicaid program?" he asked. "When I expanded the Medicaid program, is that silence?"
The two proceeded to talk over each other for several minutes, with Christie saying the woman was twisting her facts because she has an "agenda." He added, "Medicaid has been expanded in this state, and I'm sorry that you favor Obamacare and I do not. I mean, I'm sorry, that's just the way it goes."
The crowd in attendance was clearly on Christie's side, applauding that line as well as when he explicitly said he was not going to invest money in the "failed federal program" that is the Affordable Care Act.
Undeterred, Collinsgru pushed forward, saying "no one benefits" from having uninsured people in New Jersey and telling Christie that his Medicaid director agrees with her.
"Two weeks ago I met with my Medicaid director and she had no complaints," Christie replied. "So I think that my access to my Medicaid director is significantly better than your opinion of it."
Last month, New Jersey missed a deadline to submit a plan to Department of Health and Human Services showing how it would use a $7.6 million grant from the federal government to help the uninsured get insurance. As The Star-Ledger reported, this means the state had to return the money. Like many other states with Republican governors, New Jersey opted to let residents sign up on the main Healthcare.gov website rather than set up their own online exchange.
Watch video below, via CNN:
[photo via screengrab]
— —
>> Follow Matt Wilstein (@TheMattWilstein) on Twitter
Have a tip we should know? tips@mediaite.com