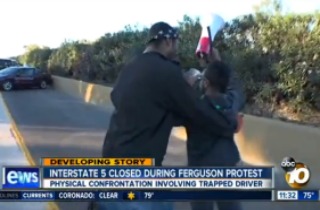 Americans nationwide are protesting the grand jury decision to not indict Ferguson police officer Darren Wilson for the shooting death of Michael Brown. During the morning rush hour on Wednesday, some University of California — San Diego students blocked a major freeway in La Jolla, Calif., a move that angered many commuters who were trying to get to work. One man went as far as physically pushing a protester out of the way and taking the bullhorn he was using.
Tyree Landrum, one of those commuters who was on his way to work at a local Ross store, expressed his anger to ABC10: "I got to go to Ross right now, homie. If I don't get there, I'm going to get fired. I've got six f*cking kids to feed, homie … m*therf*ckers get shot every f*cking day. Deal with it the right way, not like this."
Landrum got out of his car and pushed a protester, who was shouting through a bullhorn, "no justice, no peace," to the side of the road, and took the bullhorn from him.
"Hey, I feel you; we ain't got no justice either," Landrum said. "I'm about to lose my job, and you guys are out here protesting?"
Another commuter said the protesters "don't really know anything about the real issue," and are "complaining about something that could be dealt differently." One woman, a nurse, shouted, "arrest them!"
The drivers rejoiced when the police showed up, and one man yelled, "you're spending the night in jail! That's right, you're spending the night in jail tonight!"
Watch the report below, via ABC10:
[h/t Grabien]
[Image via screengrab]
— —
>>Follow Andrew Desiderio (@forza_desiderio) on Twitter
[Note: Mediaite intern Andrew Desiderio is a student at The George Washington University.]
Have a tip we should know? [email protected]