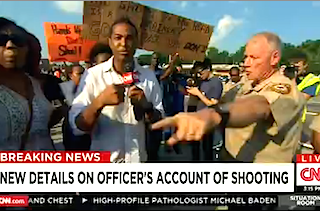 Just as CNN's Brianna Keilar threw to Don Lemon, who was reporting live from the street in Ferguson, Missouri early Monday evening he told her, "I think we're about to be arrested."
Lemon did not end getting detained by officers there, but they did attempt to physically push him back away from CNN's camera, shouting, "Move out of the way, sir. Move!"
"We've been standing here all day," Lemon continued to report as the officer moved him and other protesters back.
"We've got rights!" a woman behind him screamed.
"I'm not going to resist a police officer," Lemon said and he moved backwards. "Now you see why people are so upset here, because we have been here all day," he added. "We're on national television. So imagine what they are doing to people when you don't see on national television, the people who don't have a voice like we do."
RELATED: Don Lemon to Mediaite: I Didn't Feel Unsafe in Ferguson 'Until Last Night'
At one point, Lemon tried to ask the officer why he was trying to move people out of the area but was unable to get a straight answer. Eventually he was simply told that there were "traffic concerns" and the police were trying to move everyone to a parking lot nearby.
"I think from my perspective here, the police actually created the traffic situation and the situation that's going on, the chaos here, rather than the people who are just standing here," Lemon reported.
Watch video below, via CNN:
[Photo via screengrab]
— —
>> Follow Matt Wilstein (@TheMattWilstein) on Twitter
Have a tip we should know? tips@mediaite.com