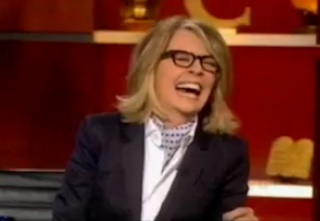 Actress Diane Keaton may have topped Joaquin Phoenix for the title of most bizarre appearance on a late-night talk show, when she stopped by The Colbert Report Monday night, ostensibly to promote her new book, Then Again. Stephen Colbert made a valiant effort to interview the Academy Award-winner, but was rebuffed by Keaton's erratic behavior.
Keaton began the interview by peppering Colbert with questions about whether he was still running for president and why he wasn't at the White House Correspondent's Dinner.
When Colbert told her about his notorious 2006 performance as the featured entertainer, Keaton asked if he was clothed, which Colbert attempted to humorously diffuse.
RELATED: Joaquin Phoenix Returns To The Late Show And Gets A Scolding
"I just want you to know I won't be voting for you," Keaton interjected.
"Well that's a long set-up to break my heart," Colbert nervously joked.
"I don't care, I really don't care," Keaton replied.
"Do you know how much you hurt me?" Colbert countered.
"I don't care if I hurt you at all. And I don't want to see your buck naked ass," she zinged.
"I never offered!" Colbert cracked. "You misinterpreted that hug backstage!"
"You did, and I'm bringing you up on charges," Keaton hit back.
Colbert tried to bring the conversation back to her book but Keaton continued to thwart him.
"Now you know why I wouldn't vote for you," she said offhandedly.
"Because?" Colbert confusedly asked.
"Because you're a sexual pervert!" she blurted out.
Colbert quickly grew wary of Keaton's shenanigans.
"Before I encourage my viewers to buy the book you have to say one f*cking thing about it," Colbert snapped.
The interview was thrown into chaos as Keaton suddenly awkwardly stood up.
"Don't get up!" Colbert demanded. "You can't leave! You can't leave until the cameras go off."
"I'm pressing charges!" she said.
Watch Keaton's bizarre interview below via Comedy Central:
Have a tip we should know? tips@mediaite.com