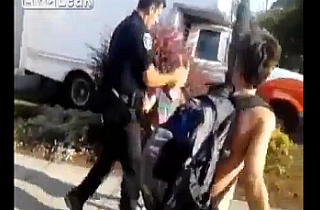 Extraordinarily uncomfortable video has been making the rounds on the Internet showing a police officer smacking a eight-year-old ten-year-old boy.
The incident reportedly occurred this past Sunday in Eugene, Ore., when an unidentified officer attempted to aid the Department of Human Services in returning the boy to a home from which he allegedly ran away.

According to the original video's posting, the unnamed child was being removed from his mother and being returned to another person who had obtained custody.
As the officer leads the child away from the home, video shows the boy being uncooperative, insisting that he is "not a runaway," while other passersby berate the cop for doing something they believe to be unjustified. All of the sudden, the officer turns and smacks the child in the face, alleging he was bitten in the hand.
The woman behind the camera gets in the officer's face and begins shouting at him: "You do not hit an underage child!" Other civilians shout: "You're hitting a child that's not yours!" All the while, the boy screams for help.
As the officer approaches a park, a random male in a tie-dye t-shirt purposely blocks the officer's path, prompting the cop to pull out his pepper spray and threaten to shoot it off before the unidentified male relents. Another young boy follows the officers for much of the video, cursing at them and threatening to have his friends in "the Mexican mafia" come after them.
Around four-and-a-half minutes into the raw video, we see the child's mother with handcuffs behind her back, as the officer lets the mother and son hug before they take him back to a judge-ordered custody. At one point the woman explains to bystanders that she missed a court date, resulting in this ordeal.
Meanwhile, the officer who restrained the child repeatedly told the crowd that he was confident in his decision to hit the child because he was being bitten. "She's got it on camera," he confidently says at one point, implying his belief that he followed the correct procedure in this situation.
We've attempted to contact the Eugene Police Department for more information. But suffice it to say, the video is truly uncomfortable.
—
UPDATE: A local news report indicates the child was actually 10 years old, and "was in the custody of his mother, Stephanie Johnston, 28, against a court order for the last few years. Officers believe the boy has never attended school and is reported to be illiterate."
The report continues: "The father of the boy, Brian Wolfe, 32, has a court order awarding him full custody, with Johnston not being granted any parenting time. Police made contact with the boy, after which several acquaintances of the boy and his mother began telling the boy to run from police and his father."
—
Watch the (incredibly NSFW) below:
— —
>> Follow Andrew Kirell (@AndrewKirell) on Twitter
Have a tip we should know? tips@mediaite.com