WATCH: Ellen DeGeneres' Funny, Heartfelt Speech Against The Boy Scouts Gay Ban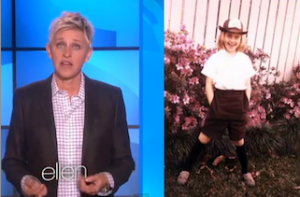 It's rare for Ellen DeGeneres to cover serious issues on her daytime talk show, but when she does, it's always with her unique blend of humor and heart.
This time, DeGeneres took on the recent controversy over the Boy Scouts' (almost) decision to lift their long-standing ban on gay members. She began with a joke, saying, "If the Boy Scouts start treating gays equally, they're going to become the first group to do it — after the Army, the Navy, the Air Force, the Marines, the Coast Guard, all of the United Kingdom and Cher."
She then added that "obviously" she thinks the Boy Scouts should allow gay members and the fact that they don't is "insane." "They won't let their members be gay, or openly gay, anyway," she said, "but they're letting them wear neckerchiefs and green short shorts."
DeGeneres went on to talk about her brother's positive experiences in the Boy Scouts and even showed a childhood photo of herself in a Girl Scout uniform, noting that that organization does not discriminate against homosexuals.
She said that the leadership message imparted by the Boy Scouts is important and should be open to everyone. "The more that we teach people how to accept people for who they are, the more self-confident they'll be and the better leaders they'll become."
The host ended her speech by listing off all of things Boy Scouts should be worried about while their out in the woods instead of thinking about someone's sexual orientation: bears, poison ivy, poison oak, black widows, ticks, lyme disease. "Gay or straight, that sounds miserable to me."
Watch video below:
—
>> Follow Matt Wilstein (@TheMattWilstein) on Twitter
Have a tip we should know? tips@mediaite.com