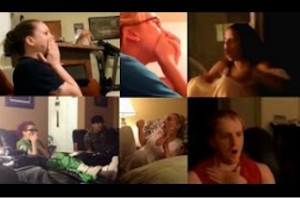 If you've used the internet anytime over the last 36 hours or so, you're probably aware that this past Sunday night's episode of HBO's Game Of Thrones was very intense. Our own Joe Concha raised some eyebrows with his public decision to cancel his HBO subscription and never watch the show again.
As a big fan of the show myself, I have no similar plans to abandon it now. The idea of not watching the final episode of season three after all this time and investment seems completely preposterous to me. While the [spolier alert] mass murder of most of the Stark clan, including Robb Stark's unborn child and one of their precious direwolves was not easy to watch, I could appreciate the brilliant filmmaking, storytelling and acting that went in to producing such a visceral response from viewers.
And you didn't think that fans of the show all over the country had difficulty getting through the final moments of Sunday's episode, now we have this perfectly crafted six-minute montage of their reactions as they watched. So, relive the horror through the eyes of people who also couldn't believe what was happening on their TV screens.
Watch video below, via YouTube:
But, perhaps the best reaction of all came from young Maisie Williams, who plays Arya Stark in the series. Her character was spared the terrifying sight of her mother and brother's deaths, but Williams shared her own thoughts on the matter with this six-second Vine:
—
>> Follow Matt Wilstein (@TheMattWilstein) on Twitter
Have a tip we should know? tips@mediaite.com