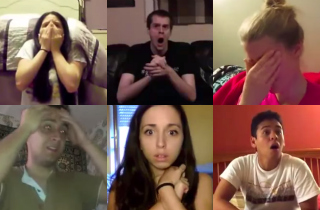 [WARNING: Obvious massive spoilers for the season five finale of Game of Thrones ahead.]
More than two years ago, fans of the HBO series Game of Thrones collectively lost their minds when, during the penultimate episode of season three, several major characters were unexpectedly killed off in the infamous "Red Wedding."
It was a similar feeling to what viewers experienced when the show's presumptive protagonist, Ned Stark, was beheaded in the ninth episode of season one. Last night, the show's creators did it again.
In the final moments of the season five finale, Kit Harrington's Jon Snow was repeatedly stabbed in the chest by his fellow Night's Watch members, including young Olly, who had been telegraphing his disappointment in the Lord Commander's decision-making for weeks.
This time, the reactions from fans — at least those who hadn't read George R.R. Martin's books — were even more devastating, as seen in this compilation of NSFW outbursts:
But for many, the question remains: Is Jon Snow really dead? It's hard to imagine how he could survive the attack, but viewers never technically see him die and we do know that Melisandre, who has put a lot of value in King's Blood, is wandering around Castle Black with nothing to do and potential magic to share.
However, according to showrunner Dan Weiss, "Dead is dead."
He told Entertainment Weekly, "We would hope that after seeing the scene and the way it's shot that the answer to that will be unambiguous in the minds of the people watching it. It should be pretty clear what happens in by the time you're done seeing that scene. It's not an, 'Oh what just happened scene?'"
Similarly, Harrington said definitively, "I've been told I'm dead. I'm dead. I'm not coming back next season."
While Game of Thrones the TV series has significantly diverted from the Song of Ice and Fire books this season, the final scene does match the cliffhanger ending of Martin's fifth book. But when Martin was asked about Snow's apparent death, he remained coy. "Oh, you think he's dead, do you?" he said in 2011. "My readers should know better than to take anything as gospel."
One close Game of Thrones watcher who is convinced Snow — and Harrington — is coming back for season six is Grantland re-capper/podcaster Andy Greenwald. In his piece published early Monday morning, Greenwald declared, "He's not dead."
"A brave TV show might cut off its prettiest nose to spite its face. But a smart and good one — which Thrones has been more often than not, even in the bumpy second half of Season 5 — would know better," he wrote. "A happy ending shouldn't be expected. But a satisfying one is a different thing altogether. That's why I am confident in saying that Jon, like my interest in Game of Thrones, will live to see another day."
Notably, Harrington said he is not coming back for the sixth season of the show. But that doesn't preclude him from returning for the seventh. Or maybe that's just the kind of wishful thinking Game of Thrones has never shown any interest in rewarding.
[Photo via screengrab]
— —
>> Follow Matt Wilstein (@TheMattWilstein) on Twitter
Have a tip we should know? tips@mediaite.com