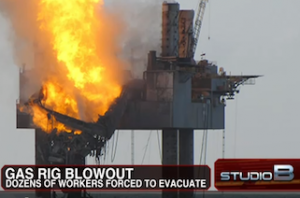 The images are reminiscent of the massive explosion on BP's Deepwater Horizon oil rig in 2010, but this time it's a fire that broke out on a natural gas rig Tuesday night in the Gulf of Mexico that continues to burn nearly 24 hours later.
As Shepard Smith reported on Fox Wednesday afternoon, after a blowout occurred, 44 workers were evacuated from the site and there are no known injuries. Now, there is the question of the environmental impact the situation will have on the area, about 55 files off the coast of Louisiana. Inspectors reported a "light sheen" covering half a mile of water that they say is "dispersing quickly." Officials are not saying how much natural gas is leaking from the site, nor how long it will take for the fire to be put out.
Smith spoke to Earl Hughes, a Homeland Security official who worked on the cleanup following the Deepwater Horizon spill. "As long as the well is on fire," Hughes explained, "it doesn't cause a pollution source to hit the water." Comparing it to the 2010 scenario, Hughes said, this spill won't be "as big of a deal," noting the differences between natural gas and crude oil.
Discussing the BP spill specifically, Smith joked that he's seen that company's commercials, so he knows that "BP is the greatest company that's ever been and the best thing for America in the history of the world" but wanted to know what the "long-term effects" of the spill will be.
Hughes said his agency is still, 3 years later, "collecting tarballs that are coming on shore" but on the positive side, "as far as oil leaking still on the beach or being on the vegetation, we're not seeing any of that at this time."
Watch video below, via Fox News:
—
>> Follow Matt Wilstein (@TheMattWilstein) on Twitter
Have a tip we should know? tips@mediaite.com