Watch Fox Sports Host Kiss up to Cowboys Owner Jerry Jones Like a Chapstick Model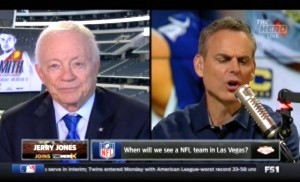 Colin Cowherd, host of The Herd on Fox Sports 1, has shown quite a talent for pulling his punches when interviewing billionaire moguls in the past. During a conversation on Monday with Dallas Cowboys owner Jerry Jones, however, the broadcaster took his softball tactics to an embarrassing new level.
Cowherd set the tone for the lovefest right out of the gate with a question to Jones that was simply over-the-top praise of Jones's AT&T Stadium masquerading as a genuine query.
"When you created that stadium — and I've been to it now, it is one of the most remarkable facilities I've ever seen in my life — has it surpassed your expectations, or was this exactly your vision for it?" Cowherd said.
It only got worse from there.
Jones appeared on The Herd yesterday to promote a Sept. 17 boxing match at AT&T Stadium between Saul "Canelo" Alvarez and Liam Smith. Though the fight has drawn ridicule from boxing fans and commentators, Cowherd praised the match, calling it "the best fight in this country in some time."
Boxing experts vehemently disagree:
If the benchmark for a great fight is the wildly disappointing Mayweather vs. Pacquiao showdown from last May, that's a bar which Alvarez vs. Smith might clear. But by any other metric, the fight doesn't even approach great, and Cowherd's suggestion that it does is patently absurd. Unless, of course, you're Jerry Jones, in which case that sounds just fine. It's hard to tell if Cowherd is interviewing Jones, or trying to muscle his way into Chris Christie's spot in the owner's box.
This is an opinion piece. The views expressed in this article are those of just the author.
Joe DePaolo - Senior Editor