Watch Franklin Graham Question President Obama's Faith, Explain Why Mormons Aren't Christian On Morning Joe
Rev. Graham Questions Obama's Faith, Explain Why Mormons Aren't Christian...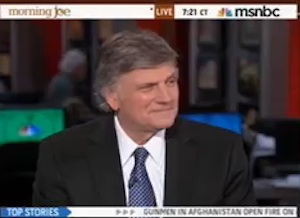 On Tuesday, Franklin Graham appeared on Morning Joe and made some statements that threw the show's panel — which included Alex Wagner, Willie Geist, and John Heilemann — into disarray. Graham questioned President Obama's faith and contentiously explained why Mormons aren't considered Christian.
Graham, throughout the interview, repeatedly said he didn't know if President Obama was a Christian.
"I asked him when he was running… how he came to faith in Christ. He said that he was working in the South Side of Chicago in the community and they asked him — the community — asked him what church he went to, and he said 'I don't go to church.' They said, 'If you're going to work in the community, you have to join one of our churches.' And of course, he joined Reverend Jeremiah's church. So that's what his answer to my question was."
"So therefore, by your definition, he's not a Christian," Geist said.
"You have to ask him," Graham said. "I cannot answer that question for anybody."
RELATED: Professor At Messiah College: Obama May Be 'Most Explicitly Christian President In American History'
Mike Barnicle then asked why Graham couldn't just say, "Yeah, I believe he's a Christian," in light of him saying he is, going to church, and practicing his faith.
"I accept him as what he says. If he says he's a Christian, I accept that, I'm not going to say he's not," Graham said. "All I know is what Jesus Christ has done in my heart and how he's changed my life."
Graham also explained how the Muslim world sees President Obama as a Muslim, but he doesn't believe he's a Muslim. He did stop short of categorically saying he wasn't a Muslim. "I can't say categorically because Islam has gotten a free pass under Obama," Graham said, pointing out the Christian minorities throughout the entire world coming under attack by Muslims, especially after the Arab Spring.
Some of the most heated moments came when the interview appeared to be over. After asking how his father, the Rev. Billy Graham, was doing, Geist said, "just one more question." He asked if Graham considered Rick Santorum a Christian, and set off a four-minute exchange between Graham and the panel about the varying degrees of Christianity of the GOP candidates and President Obama.
"His values are so clear on moral issues," Graham said on Santorum. "No question about it."
"[That's] an amazing double standard that you just applied," an incredulous Heilemann said. "Your reaction to the difference — The question about Rick Santorum and President Obama, I think, just exposes an incredible double standard you're applying to those people. They're exactly the same situation!"
"No, I asked President Obama how he came to faith in Christ and he said, 'I don't go to church,'" Graham replied.
"Have you had that conversation with Rick Santorum?" Heilemann asked.
"I've talked to Rick Santorum, yes."
"And he was just more persuasive to you?"
"I think so," Graham said. "But you have to look at what a person does with his life. Anyone can say he's a Christian. But you look at [how] do they live? Where do they go? And act? Listen, Obama is a nice man, I've met him on several occasions–"
"But you think he behaves in an un-Christian way," Heilemann interrupted.
"No, he is a nice man. And his wife is a class act and their kids are class — You can't help but like them," Graham said. "So I have no idea what he really believes and I really don't have any idea other than what Rick Santorum stands for or what he really believes."
"What about Mitt Romney?" Wagner asked.
"I like him,"
"Is he a Christian?"
"He's a Mormon."
"He says he's part of the Judeo Christian faith, do you take him at his word?"
"Most Christians would not recognize Mormonism as part of the Christian faith."
"So he is not a Christian…"
"I'm just saying most Christians would not recognize Mormonism. Of course they believe in Jesus Christ, but they have a lot of other things that they believe in, too, that we don't accept theologically," Graham explained. He then added that Romney, "would be a good President if he were the nomination, because I think the man has got the ability. He's got the strength, business-wise, political-wise — he's a sharp guy, and he's proven himself. Any one of these candidates–Newt Gingrich, all of them. Now, newt's been married several times, he's had those issues, but he could make a good candidate. And I think Newt is a Christian…at least he told me he is."
"So Newt Gingrich is a Christian," an exasperated Geist asked, "but you're not sure that President Obama is!"
Watch Part 1 of the Franklin Graham interview via MSNBC:

Watch Part 2 here:

Have a tip we should know? tips@mediaite.com