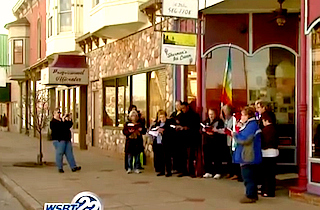 A South Bend, IN church choir called The Ripple Effect sang Friday in front of Memories Pizza, the pizzeria that become the focal point of the debate over Indiana's "religious freedom" law, in an effort to bridge the divide between Christian businesses and the LGBT community.
"There are a lot of hurt people," choir director Sherry Klinedinst told WSBT-TV. "There are a lot of angry people. I'm really hoping we can just find some common ground."
Memories Pizza owner Crystal O'Connor told a local news station last week that she would not cater a same-sex wedding due to her religious beliefs, describing the exact brand of discrimination critics feared the new law would embolden. The pizzeria withstood a torrent of online criticism after the clip went viral, then was forced to close due to threats. A GoFundMe campaign led by conservative radio host Dana Loesch has since raised hundreds of thousands of dollars for the pizzeria's owners, who plan to reopen their restaurant soon.
"We're not here to condemn or condone the owners of the establishment," Klinedinst said. "We're here to show them and the community that we can show love to people in spite of our differences."
The Ripple Effect might have been moved to enter the debate due to its inclusion of gay members. "We just have differing opinions," said one of the choir's gay members. "But, that's okay. We're supposed to have differing opinions. That's what diversity is all about."
According to WSBT, few stopped to listen to the choir, and one man told them to get a job.
Watch the clip below, via WSBT-TV:
[h/t Raw Story / WSBT-TV]
[Image via screengrab]
——
>> Follow Evan McMurry (@evanmcmurry) on Twitter
Have a tip we should know? tips@mediaite.com