WATCH: George W. Bush Talks Obamacare, Painting, and Putin Insulting His Dog on Leno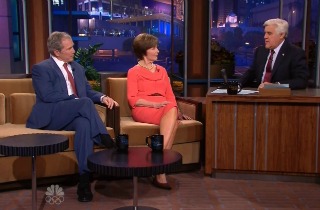 Former President George W. Bush appeared on The Tonight Show with Jay Leno on Tuesday night for a wide-ranging interview about life after the presidency. The former president discussed his health scare, his painting, Vladimir Putin insulting his dog, and his mother telling the press that she did not want to see another Bush in the White House.

Leno opened by asking about President Bush's sagging poll numbers at this point in his presidency – something that President Barack Obama is wrestling with right now. "The only poll that really mattered was on election day," Bush assured Leno.
"My first election was a little closer than I wanted," he conceded.
After discussing his presidential library, Leno turned to the president's mother, former first lady Barbara Bush. Leno noted that she requested that her son, former Florida Gov. Jeb Bush, not run for president in 2016.
"I was surprised she even answered the question," Bush observed. He related a story about how his mother told him that he could not win in an election against then Texas Gov. Ann Richards. "Jeb should run for president if he wants to," Bush added. "He'd be a great president."
"I am a painter," Bush said when asked about his new hobbies. Leno featured a painting of one of Bush's dogs that he had recently composed. "I can't even see where you painted over the number," Leno remarked.
Bush related a story about how he was offended by President Vladimir Putin's body language when he introduced his dog, Barney, to the Russian president. A year later, Bush said, Putin introduced his dog who he said was "bigger, stronger, and faster than Barney."
"You should have nuked him," Leno suggested.
At the end of the first segment, Bush presented Leno an original portrait of himself. "I can't make fun of him now," Leno conceded.
Watch parts one and two of the interview below via NBC:
After the break, former first lady Laura Bush joined her husband and the host on The Tonight Show set. Leno asked about the president's recent heart scare.
"It was very scary," Laura Bush observed.
"I wasn't that scared," President Bush added
"You had Obamacare?" Leno probed to the laughs of his guests.
Leno asked if Bush had any advice for admitted crack-smoking Toronto Mayor Rob Ford. "Have an annual physical," Bush advised.
He later discussed the work he did to combat AIDS in Africa during his presidency and his post-presidency charity work focusing on addressing the AIDS crisis in that continent.
Watch parts three and four below via NBC:
[Photo via screen grab ]
— —
> >Follow Noah Rothman (@NoahCRothman) on Twitter
Have a tip we should know? [email protected]