Watch: GOP Rep. Jason Chaffetz's Emotional Plea To Not Let Benghazi Be Whitewashed By History
GOP Rep. Chaffetz's Emotional Plea To Not Let Benghazi Be Whitewashed By History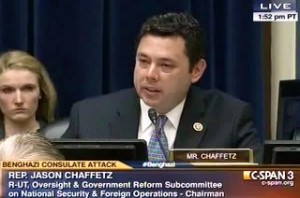 During Congressional hearings on Wednesday regarding the attack on the U.S. consulate in Benghazi, Rep. Jason Chaffetz (R-UT) became emotional while reading from what he described as an erroneous Accountability Review Board report which largely clears the federal government of culpability for the deaths of four American service personnel. Through tears, Chaffetz plead with his fellow committeemen and women to not allow the historical record of what happened in Benghazi to be whitewashed.

RELATED: Darrell Issa, Whistleblower Blast Dem Rep Who Claimed GOP's Budget Cuts Contributed To Benghazi Deaths
"And to the leadership of this committee on both sides of the aisle, I find it stunning that, four and a half months after the attack, Secretary [Hillary] Clinton still has the gall to say, 'it wasn't us, it was them," Chaffetz said. "'I take full responsibility, but I'm not going to hold anybody accountable, but it was them that made the decision.'"
Rep. Jim Jordan (R-OH) pressed the whistleblowers to admit that their requests for additional security were not only denied but reduced. Eric Nordstrom, a former regional security officer in Libya, was forced to nod and admit that he was informed by State Department officials that he would take the blame for the reduced security.
Later, Chaffetz read from the Accountability Review Board report regarding the Benghazi attack. "Quite the contrary, the safe evacuation of all US government personnel from Benghazi 12 hours after the initial attack," Chaffetz read from the report, his voice breaking with emotion. "That's not true."
"There are four people that were not safely evacuated," he added. "And, at the very beginning of the ARB it says, 'those who cannot remember the past are commended – are condemned to repeat it.' I think that's true."
"We can't allow this ARB to say that everybody was safely evacuated, because they weren't," Chaffetz concluded.
Watch the moment below via C-SPAN 3:
> >Follow Noah Rothman (@NoahCRothman) on Twitter
Have a tip we should know? tips@mediaite.com