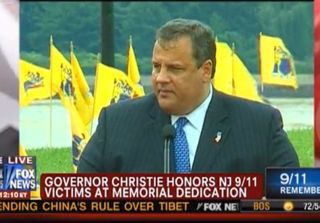 A decade after the tragic events of September 11, 2001, the state of New Jersey has erected a monument to its victims that day– the Empty Sky Memorial, which features the names of the 746 New Jersey victims of 9/11 and is designed to supplant the void in the New York skyline where the Twin Towers were, from the perspective of one standing before it. Today, Governor Chris Christie spoke at its dedication, reminding the audience that it is the loss of those whose loved ones died that remains paramount from that morning.
Governor Christie opened by reminding the audience that his statements and those of other public officials there that day were not to shine a spotlight on themselves, but on the suffering of the families whose relatives were named on the memorial. The tragedy "changed our lives in ways that are impersonal to some extent," he noted, "the different reaction we have to planes flying low overhead," or the inconveniences at airports. "For the individuals families," in contrast, "the reaction and chance in their lives has been much different, and I respectfully suggest much more significant."
To drive the point home, he listed the events that, for the average American would've been minor occurrences in the past decade, but were tragedies for these families:
Ten Little League seasons where young children didn't have their father there to coach them or cheer them from the stands; young women today who do not have their father there with them to hand them that bouquet of flowers or that special word before they graduate from high school or college; the husband or wife who has now spent ten years feeling that sense of loneliness that can only come from losing life's best friend… all of the changes and inconveniences in our lives pale in comparison.
He left those there commemorating with a simple message: "We will never leave them, and we will never forget."
Watch the dedication via Fox News below:

Have a tip we should know? tips@mediaite.com