WATCH: Hillary Clinton Addresses Mom of Slain Teen: 'I Don't Know How You Do What You Do'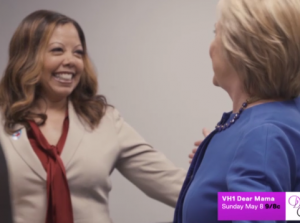 Hillary Clinton has a history of forming strong relationships with the mothers of children who have died as a result of gun violence or unnecessary force used by police. Trayvon Martin's mother endorsed her in her race for the presidency earlier this year and the mother of Brandon Tate-Brown called Clinton a "winner" after speaking to her two weeks ago.
In honor of Mother's Day, Clinton taped an appearance for VH1's Dear Mama special during which she addressed Lucy McBath, mother of Jordan Davis, who was killed by a man at a gas station who didn't like how loud the music Davis' music was. McBath is the founder of Mothers of the Movement, a group of moms who have lost children to gun violence and who work for gun law reform. Clinton has met with the organization in the past.
Here is her segment from the forthcoming VH1 special:
As footage of McBath traveling, speaking to lawmakers, praying, and leading marches played, Clinton said, "Lucy, honestly, I don't know how you do what you do. From the Walk With Jordan Scholarship Foundation, to your advocacy for common-sense gun laws, you're moving mountains through your faith and determination."
She finished with, "From one mother to another, happy Mother's Day, my friend," as old photos of McBath and Davis appeared on-screen.
McBath is the 2016 recipient of Dear Mama's Mother of the Year award. Her acceptance speech will be available in full when the special airs at 9:00 p.m. EST this Sunday. Watch above to see a snippet of the speech following Clinton's tribute and tune in Sunday to see stars like Queen Latifah, Jaden and Willow Smith, and Alicia Keys honor their moms, too.
[image via screengrab]
For more from Lindsey, follow her on Twitter or Facebook.
Have a tip we should know? tips@mediaite.com