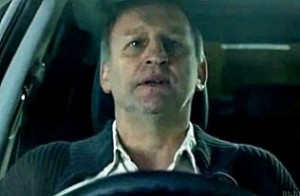 A new ad from automaker Hyundai has raised quite a few eyebrows in the United Kingdom, with intense backlash focusing on the product's "insensitive" depiction of a failed suicide attempt to promote its brand. In the video clip, a man is depicted sealing up his garage and taping a hose pipe to the vehicle's exhaust, presumably in an effort to commit suicide by carbon monoxide poisoning. In the end, he survives due to the car's clean emissions technology.

The video ad was created by Innocean Worldwide Europe to promote the automaker's new iX35 crossover SUV. Most viewers seem to view the video as a clear and undoubtedly offensive effort to make light of a failed suicide attempt, cynically promoting the car's clean emissions as having saved the man's life.
In addition to the countless angry tweets the car company has received, advertising writer Holly Brockwell — who lost her father to a suicide attempt like the one depicted — drew the most attention towards the ad when she wrote a heart-wrenching open letter on the blog Copybot. Snippet below:
I've worked on automotive accounts. I actually worked on Honda for the best part of a year. And strangely, not once did it seem that the best way – the most intelligent way, the most creative way – to advertise their products to people was to remind them of the horrendous event that is suicide. Strangely enough, I could – and still can – think of a thousand more interesting, creative ideas that wouldn't have left me feeling like I've just lost my dad all over again.
Hyundai released a statement:
"Hyundai Motor deeply and sincerely apologizes for the offensive viral ad.

"The ad was created by an affiliate advertising agency, Innocean Europe, without Hyundai's request or approval. It runs counter to our values as a company and as members of the community. We are very sorry for any offense or distress the video caused.

"More to the point, Hyundai apologizes to those who have been personally impacted by tragedy."
The ad-maker Innocean then commented as well:
"INNOCEAN Worldwide deeply and sincerely apologizes for any offense or distress that the posting of the viral film may have caused.

"This viral film was created and posted on Youtube for one day by INNOCEAN Worldwide Europe to get consumers' feedback on creative idea employing hyperbole to dramatize a product advantage without any other commercial purpose.

"Nevertheless, as a company that espouses strong family values, INNOCEAN would never intentionally set out to cause distress. More to the point, INNOCEAN apologizes to those who have been personally impacted by tragedy."
Watch the commercial, dubbed "Pipe Job," below:
— —
>> Follow Andrew Kirell (@AndrewKirell) on Twitter
Have a tip we should know? tips@mediaite.com