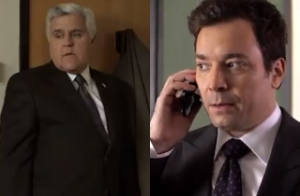 After weeks of subtle jokes from NBC's late night hosts about the news that Jimmy Fallon will be taking over the Tonight Show from Jay Leno next year, it looks like the two men will finally be addressing the story together tonight.
Late Night with Jimmy Fallon posted the teaser below to its YouTube channel Monday evening. In the short clip, we see scenes from both the Tonight Show studios in Burbank, California and the Late Night set at 30 Rock in New York. As staff members pester Leno for details about the shakeup, the host escapes into his dressing room where we see him calling Fallon in New York. Fallon answers the call from "Host of Tonight Show," but after he answers the phone with a friendly, "Hey, Jay," the screen cuts to black.
What will Leno say to his successor on air for the world to see? Presumably, we'll get to see the rest of the sketch addressing the news head-on when Late Night airs tonight at 12:35am ET. We'll make sure to update this post with the full video as soon as it's available.
Watch video below, via YouTube:
UPDATE: After a seamless transition from the Tonight Show to Late Night, Leno and Fallon broke out into a dramatic version of "Tonight" from the Broadway musical West Side Story. In the new lyrics, Fallon sang, "In the news, all they do, is say I'm replacing you" and Leno replied, "So the network said 'Here's an idea. Pack your bags, take a hike, NBC-yaaa!'"
The two hosts ended the song with a united front, belting out, "Tonight, Tonight.
Why do they say we fight? I like you, you like me, we're okay. Tonight, Tonight. Who cares who hosts Tonight? People just watch online the next day!"
Watch video below, via NBC:

—
>> Follow Matt Wilstein (@TheMattWilstein) on Twitter
Have a tip we should know? tips@mediaite.com