Jim Cramer Lays into Democratic Job Creation Policies During Clash with Obama Advisor
Jim Cramer Lays into Dem Job Creation Policies During Clash with Obama Advisor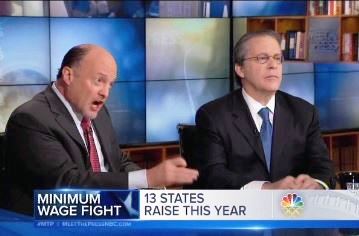 CNBC host Jim Cramer and White House advisor Gene Sperling appeared on Meet the Press on Sunday where he was asked for their takes on the debate over extending long-term unemployment insurance. During the segment, Cramer tore into how Democrats go about pursuing job creation policies and offered the party some messaging advice which will allow them to gain public support for their existing policies.
Cramer began by dismissing Sen. Rand Paul's (R-KY) who suggestion that perpetual unemployment may hamper an individual's ability to be competitive. He added that creating the conditions where employers begin hiring at a more rapid pace should be the goal, but it is also an imperative that the unemployed have access to basic necessities.
Sperling insisted that Republicans can play a role by creating economic certainty and not shutting down the government or refusing to raise the debt ceiling. "It's time for Republicans to work with the president on the bipartisan opportunities we have for job creation," he added.
RELATED: Judy Woodruff Wonders if 'Compelling' Inequality Issue Will Overtake Obamacare in 2014
Host David Gregory asked if Obama "should win" the fight over increasing the federal minimum wage. "Yes," Cramer replied. However, he noted that some employers will have a harder time adjusting to an increase than others.
He expanded on this point by noting that "nobody" is helping workers to relocate to states that have lower unemployment rates. He went on to blast progressive government in America that creates incentives for companies to do business overseas with nations like the "very capitalist" Chinese.
Sperling added that the economic gains presently achieved can be sustained with the passage of comprehensive immigration reform that would bring in more workers. Cramer took issue with this assertion. He noted that the economy has "a much larger supply of labor than we need."
The CNBC host continued to criticize Democrats in Washington by not acknowledging that green economic policies push industries to move their business to countries without those regulations. "Why don't we care more about our people?"
He concluded by saying that Democrats are reluctant to embrace the soaring Dow Jones Industrial Average because they think the "stock market is only for rich people."
"I think that's wrong," he continued.
Watch the clip below via NBC:
[Photo via screen grab ]
— —
> >Follow Noah Rothman (@NoahCRothman) on Twitter
Have a tip we should know? tips@mediaite.com