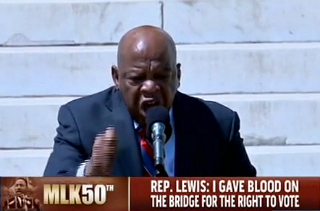 Almost fifty years from the day of his original address at the 1963 March on Washington for Jobs and Freedom, Representative John Lewis, the last surviving speaker of the March, once again called out from before the Lincoln Memorial for equality and voting rights.
"Back in 1963, hundreds and thousands and millions of our brothers and sisters could not register to vote," Lewis said. "When I stood here fifty years ago, I said, 'One man, one vote is the African cry. It is ours, too. It must be ours.'"
Lewis reminded the crowd that the fight for the vote was not over, especially given the Supreme Court's recent decision nullifying crucial sections of the Voting Rights Act of 1965.
RELATED: Don Lemon Talks to Mediaite About CNN's March on Washington: 'This Shows Us the Fight'
"Almost fifty years ago, I gave a little blood on that bridge in Selma, Alabama, for the right to vote," Lewis said. "I am not going to stand by and let the Supreme Court take the right to vote away from us…The vote is precious. It is almost sacred. It's the most powerful non-violent tool we have in a democratic society and we've got to use it."
Lewis also called for comprehensive immigration reform, and included gays and lesbians in the fight for equal rights.
"I'm not tired, I'm not weary," Lewis finished. "I'm not prepared to sit down and give up. I am ready to fight and continue to fight, and you must fight."
Watch the full speech below, via MSNBC:
————
>> Follow Evan McMurry (@evanmcmurry) on Twitter
Have a tip we should know? [email protected]