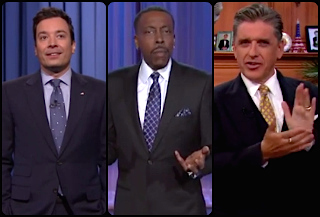 When CBS announced yesterday that Stephen Colbert would be taking over for David Letterman on The Late Show some time next year, they did so early enough in the day that nearly every late night host had to chance to work the news into their opening monologues in one way or another. We already saw how Jon Stewart and Colbert himself addressed the story on The Daily Show and Colbert Report respectively, but here's a look at how the rest of the late night field reacted.
On CBS' The Late Late Show, Craig Ferguson, who many assumed was next in line to inherit Letterman's seat, made quick mention of the news during the opening of his show. "May I congratulate the lovely Stephen Colbert on getting The Late Show," Ferguson said. "Isn't that lovely? Congratulations, Stephen. A fine addition to the CBS cavalcade of stars."
For now, at least, Ferguson plans to remain in the 12:35am slot on CBS following Colbert, but things could change when his contract negotiations happen later this year.
Watch video below, via CBS:
"I have a big announcement," Jimmy Fallon said at the top of The Tonight Show Thursday night. "Starting in 2015, I will be the new host of The Colbert Report on Comedy Central." On a more serious note, he added, "Of course we want to say congratulations to our good friend Stephen Colbert who will be taking over for David Letterman next year. We're very happy for that guy." Fallon insisted that there won't be any new "late night war," and instead promised a "dance-off."
Watch video below, via NBC:
Seth Meyers, who last week offered a heartfelt tribute to the departing Letterman, called Colbert "one of the nicest people" he's ever met along with one of the "funniest and smartest" people on TV. "He's the perfect replacement."
Meyers also said he would happy not to be the newest network late night host anymore so he can stop getting Jimmy Kimmel coffee every morning.
Watch video below, via NBC:
The first thing Arsenio Hall had to say about Colbert's new job was "Keep your eyes off my late night job, especially you Jon Stewart." He then defended a tweet he sent out earlier in the day that said Letterman actually wanted him for the job but CBS decided to go in a different direction.
Watch video below, via The Arsenio Hall Show:
As for the rest of the late night crowd, Conan O'Brien took Thursday night off, presumably to start gearing up for his hosting gig at this coming Sunday's MTV Movie Awards. The one host who did air a show last night and conspicuously failed to mention that Colbert news was Jimmy Kimmel. Perhaps he's just not yet ready to deal with the loss of his beloved Letterman.
[photo via screengrab]
— —
>> Follow Matt Wilstein (@TheMattWilstein) on Twitter
Have a tip we should know? tips@mediaite.com