WATCH: Mediaite's 'Rule of Law: How the Criminal Justice System Impacts Well-Being'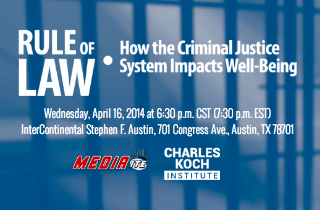 Mediaite hosted its second major panel discussion Wednesday night. Sponsored by the Charles Koch Institute, Rule of Law: How the Criminal Justice System Impacts Well-Being, was held at the InterContinental in Austin, Texas.

You can watch the full video of the event here:
SPEAKERS:
Gary Bledsoe, President of Texas NAACP
Bernard Kerik, former Commissioner of the New York City Police Department
Norman L. Reimer, Executive Director of the National Association of Criminal Defense Lawyers
Marc A. Levin, Director of the Center for Effective Justice and Right on Crime, Texas Public Policy Foundation
Mediaite's editor-in-chief Andrew Kirell moderated the event.
Here's an overview of the event and topics covered:
Can criminal justice system reform improve overall well-being for individuals, families, and communities?

The United States has only 5 percent of the world's population but about 25 percent of its known prison population. In fact, the country's prison population has increased by 790 percent since 1980, exceeding 2 million people in 2002.

We hope you'll join us for a discussion on how the sharp rise in the number of people behind bars has had a significant impact on well-being. A criminal conviction, even for a minor offense, hinders opportunity and advancement, can contribute to a breakdown in family structure, and can put a strain on community resources. All too often, the effects of incarceration propel former prisoners to commit another crime, creating a vicious cycle of recidivism.

Thoughtful dialogue on this issue can lead to solutions to the challenges facing the criminal justice system and those affected by it, especially the least fortunate. That's why we're bringing together leading figures in the criminal justice arena for a conversation on the use of criminal versus civil law; federal and state reforms; mandatory minimum sentences; and other topics.
Have a tip we should know? tips@mediaite.com