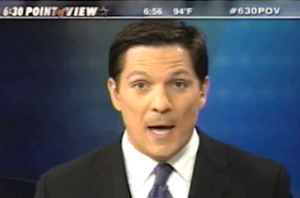 If you thought Fox and MSNBC were the only place you could find opinionated news hosts delivering brutal attacks on politicians, you've never seen North Dakota's "6:30 Point of View" with Chris Berg. Last week, Berg absolutely ripped apart Democrats Senator Heidi Heitkamp and Congressman Collin Peterson for declining his repeated interview requests.
Berg began by thanking the state's Republican senator, John Hoeven for sitting down for an interview with him earlier that day. "You have to give him kudos for coming in, taking your questions on Facebook, answering the tough questions about what you want to hear about," Berg said before moving on to some other politicians who he thinks could take a page out of Hoeven's book.
He began with Heitkamp, who he said told the station her schedule was too busy for an interview, despite the fact that she has held no town hall meetings during her August recess. He mocked Heitkamp's recent "Twitter panel," saying, "we know how rampant Twitter is in North Dakota. Everybody's on Twitter here in North Dakota, aren't they?. What a joke, that is ridiculous. She can't come in here for 15 minutes to spend time with you, her constituents and answer questions? That's embarrassing." He challenged her to come on any time and even offered to pay for the satellite fees from Washington.
Berg was even tougher on Peterson, calling him out for not returning the station's calls or emails. "You're up for re-election coming up in 2014, and you know the NRCC has a target on you, saying 'you ain't gonna win,'" Berg said. "I know you've been there forever. You think this is your seat, you own it. Guess what, you work for it's people here in the valley. Show up!"
With a clip like this, could cable news be in Berg's future?
Watch video below, via KXJB-TV:
(h/t TheBlaze) | [photo via screengrab]
—
>> Follow Matt Wilstein (@TheMattWilstein) on Twitter
Have a tip we should know? tips@mediaite.com