Watch: MMA Trainer 'Mounts' Defense Attorney In Court, Calls George Zimmerman 'Soft'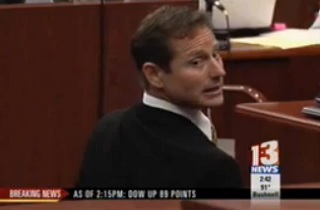 Some of the most surreal moments in the George Zimmerman trial came courtesy of Mixed Martial Arts (MMA) trainer Adam Pollock, who trained George Zimmerman from October of 2010 until "the end of 2011" at a Longwood, Fl. gym. On Monday, Pollock testified about Zimmerman's physical condition during his time at the gym, and at the behest of defense attorney Mark O'Mara, demonstrated what he called a "mounting position" by, well, mounting defense attorney O'Mara in the middle of the courtroom.
MMA techniques have already figured heavily in the George Zimmerman trial, as one witness described, for the court, a "ground and pound" attack on Zimmerman, although he also testified he did not see any actual punches landed. Slain teenager Trayvon Martin had only a single abrasion on his hands, according to the medical examiner who autopsied the victim, which he testified could have occurred prior to the incident.
During testimony yesterday, attorney O'Mara asked Adam Pollock to demonstrate a "mounting position," and after asking Pollock how to end an MMA fight, joked "Keep all that in mind as we go through this, okay?"
Pollock then mounted O'Mara on the floor of the courtroom, and explained several techniques to combat the mounting position, including something he called "shrimping."
Here's video of that demonstration, via Florida's Channel 13:
Although O'Mara emerged unscathed, it could be argued that George Zimmerman took something of a beating in court yesterday, as Pollock reluctantly went on to describe Zimmerman's physical condition. Under Pollock's tutelage, Zimmerman lost 50 to 80 pounds, but when he first came to the gym, according to Pollock, there was really no nice way to describe him. Asked to do so, in his own words, Pollock began by saying "He was — and I really don't like to use this type of terminology…"
"We've heard words that we don't want to use," O'Mara reassured him.
"Soft," Pollock continued. "Just physically soft. He's not a — you know, he was an overweight, large man when he came to us, and a very, very pleasant, very nice man, but physically soft. He was predominantly fat. Not a lot of muscle. Not a lot of strength."
It was a considerably leaner George Zimmerman who shot and killed Trayvon Martin in February of 2012, shortly after his year of MMA training. Pollock testified that Zimmerman had taken a few months off from training during the year-plus span, and that he was still not a proficient fighter when it was done. Zimmerman, who weighed about 195 pounds at the time of the shooting, has gained over a hundred pounds in the time since. At the time of his death, Trayvon Martin weighed 158 pounds.
Have a tip we should know? tips@mediaite.com