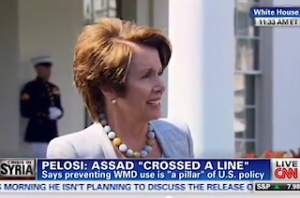 House Minority Leader Nancy Pelosi emerged from a meeting with President Obama and other congressional leaders earlier today and publicly declared her continued support for military intervention in Syria. But before she left the press gaggle, she shared one last story about a curious conversation she had with her five-year-old grandson over Labor Day weekend.
Before she left her home in San Francisco, Pelosi said her grandson approached her with this question: "Are you 'yes' war with Syria, 'no' war with Syria?" First of all, she wanted everyone to know that "we're not talking about war, we're talking about an action" in Syria, but none-the-less she continued the anecdote.
When she asked her grandson what he thought, he said, "I think no war." She proceeded to make her case to the young man, describing how Bashar al-Assad's regime has "killed hundreds of children there."
"Were these children in the United States?" her grandson asked, bringing up the salient point of how the strike will affect American interests.
She told him, no, but they are "children" wherever they are. "It affects our interests because, again, it was outside of the circle of civilized behavior," she told reporters. "Humanity drew a line decades ago that I think if we ignore, we do so to the peril of many other people who could suffer."
From her remarks, it sounds like Pelosi may not have been able to sway her five-year-old grandson. Will she be able to convince her colleagues in the House?
Watch video below, via CNN:
[h/t NRO]
[photo via screengrab]
— —
>> Follow Matt Wilstein (@TheMattWilstein) on Twitter
Have a tip we should know? tips@mediaite.com