Watch: NY Jets Coach Rex Ryan Literally Moonwalks Away From Quarterback Question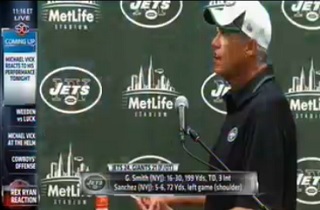 The New York Jets won their pre-season grudge match with the New York Giants Saturday night, but at the cost of a shoulder injury to incumbent starting quarterback Mark Sanchez, and a devastating blow to competing QB Geno Smith's credibility. At a postgame press conference, Jets Head Coach Rex Ryan was asked if, given his three interceptions and one self-inflicted safety, rookie Geno Smith still has a chance to be the Jets' starting quarterback on day one of the regular season. A frustrated Ryan evaded the question, and threw in some offbeat body language for good measure.
Ryan began by telling reporters that "this team will make the, you know, the call on the starting quarterback when we think it's appropriate. We said that from day one. To me, obviously we talked about the competition and that was something that I thought was important. If it wasn't important, I would not have put him in there. I would not have put Mark in if it wasn't important."
Asked if Smith still had a chance to be the starter on day one, Ryan responded, "Hey, again, we're going to compete all the way through."
A reporter asked, "Is that a yes or no, Rex, does he have a chance to be the starter?"
"Hey, I'll make the call. I don't have to answer the question. i answered it the way i said and from day one i said we will make the announcement of the starting quarterback when we think it's the appropriate time. not when you or this person or that person think so. maybe that person but that's about it.
"You can't even say if he has a chance…" the reporter interjected.
"I can say anything I want, that's the beauty of this country," a perturbed Ryan cut in, then turned and did a little moonwalk. "Here, I'll stand backwards and answer the question. I'm going sideways. At the appropriate time we'll make the announcement, when I think it's the appropriate time."
Ryan also fielded questions on his decision to put Sanchez in late in the game, with a motley second team offensive line, which resulted in a shoulder injury that could end up deciding the QB question for him. Ryan defended the move on the grounds that it helped secure a glorious overtime preseason win.
Here's the clip of that postgame presser, from ESPN:
Have a tip we should know? tips@mediaite.com