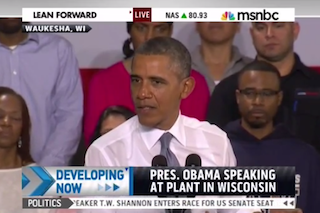 As soon as he said it, he realized it may have been a mistake. Speaking at General Electric's Waukesha Gas Engines facility this week, President Barack Obama told the crowd that "folks can make a lot more potentially with skilled manufacturing or the trades than they might with an art history degree."
"Now, nothing wrong with an art history degree — I love art history," Obama said to chuckles from the crowd. "So I don't want to get a bunch of emails from everybody."
"I'm just saying, you can make a really good living and have a great career without getting a four-year college education," he continued, "as long as you get the skills and training that you need." That last line was welcomed with an applause break.
While there is no evidence that America's art history majors are going to start abandoning Obama in droves, he did manage to draw some backlash from the College Art Association's director Linda Downs, who issued the following statement in response:
The College Art Association has great respect for President Obama's initiative to provide all qualified students with an education that can lead to gainful employment. We support all measures that he, Congress, State Legislatures, and colleges and universities can do to increase the opportunities for higher education.

However, when these measures are made by cutting back on, denigrating, or eliminating humanities disciplines such as art history, then America's future generations will be discouraged from taking advantage of the values, critical and decisive thinking, and creative problem solving offered by the humanities. It is worth remembering that many of the nation's most important innovators, in fields including high technology, business, and even military service, have degrees in the humanities.

Humanities graduates play leading roles in corporations, engineering, international relations, government, and many other fields where their skills and creating thinking play a critical role. Let's not forget that education across a broad spectrum is essential to develop the skills and imagination that will enable future generations to create and take advantage of new jobs and employment opportunities of all sorts.
Watch video below, via MSNBC:
[h/t Yahoo]
[photo via screengrab]
— —
>> Follow Matt Wilstein (@TheMattWilstein) on Twitter
Have a tip we should know? tips@mediaite.com