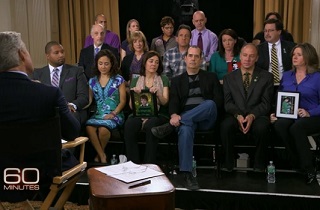 As parents of the children tragically slain at Sandy Hook Elementary School prepared to lobby Congress for gun violence prevention measures on Monday, CBS News' 60 Minutes aired a powerful interview with seven of the families Sunday night, all members of the group Sandy Hook Promise. Many of the parents spoke wrenchingly of the moments leading up to the discovery of their children's fates, and discussed what they would like to see happen on Capitol Hill. While background checks seem to have the most public support, it was magazine sizes that many of the Newtown parents saw as most important.
The parents of Sandy Hook children Dylan Hockley, Ana Marquez-Greene, Benjamin Wheeler, Daniel Barden, and Jesse Lewis, as well as the mother of slain teacher Lauren Rousseau and the husband of school psychologist Mary Sherlach, began by introducing interviewer Scott Pelley to their lost loved ones. Jimmy Greene told Pelley that it was an honor to have known his six year-old, Ana, and that he cries every day. Ben Wheeler's mom, Francine, revealed that her other son, Nate, "was hiding when he heard Ben and his classmates and educators get shot."
Mark Barden said, of his late son, Daniel, "He was known as the kid that would talk to somebody sitting alone. He was genuinely an old soul."
Nicole Hockley fought tears as she held a photo of her son, Dylan, and told Pelley "He was always smiling, and always laughing. And he was very pure, possibly because of his age – he was six – and possibly because he was autistic."
Neil Heslin said his son, Jesse Lewis, "was my best friend and my buddy. He'd introduce himself as Jesse and daddy. He was my whole life."
Bill Sherlach said that his late wife, school psychologist Mary Sherlach, felt that Sandy Hook "was the place that she was meant to be, doing what she would call 'God's work.'"
Terri Rousseau, teacher Lauren Rousseau's mom, said that Lauren "had a sort of innocence about her, a kind of denial of all the ugly things in the world. We had no idea that some ugly thing would come and take her from us."
The group then spoke about their experience lobbying the Connecticut legislature, with, perhaps, some messages for the lawmakers they'll see today. Asked why they'd handed legislators photos of the children, Nicole Hockley responded, "They need to not just look us in the eyes, but look at our children, and the lost ones and… and see those faces, see what's gone, and remember this isn't just about political parties, this isn't just about careers; this is about people, and this is about making change to save people. And it's important to remember the people you are doing this for."
Later in the interview, Mark Barden told Pelley that his message to Congress is that "They have to be our government and vote up or down. They have to vote."
Asked what changes they thought were most important, Mark Barden said "The universal background check is very important," while Bill Sherlach pointed to magazine sizes. "You can have a million bullets," he said, "but if you have to put them in one at a time, the ability to do any kind of real damage is significantly reduced."
Sherlach countered the argument that reloading only takes a few seconds by revealing that, at one point during the shooting, 11 children were able to escape when the shooter was reloading. "It's just a simple arithmetic," he added. "If you have to change magazines 15 times instead of five times, you have three times as many incidents as where something could jam, something could be bobbled. You just increase the time for intervention. You increase the timeframe where kids can get out. And there's 11 kids out there today that… that are still running around on the playground pretty much now at lunchtime."
Mark Barden added that such arguments ignore chilling realities. "When you're in that situation, if you want to picture yourself murdering children in a classroom, the police are coming in to… to kill you, and then you're about to commit suicide, your brain is in another place. You're not neatly and effectively changing that magazine."
Nicole Hockley noted that search warrants indicate that the shooter left the standard size magazines at home, in favor of the 30-round ones he used in the killings. "That was a choice the shooter made," she said. "He knew that the larger capacity magazine clips were more lethal.
David Wheeler said that "There is a place for 30-round magazines– in the military, on the battlefield, at a range. if they stay at the range, they stay at the range."
In the second part of the interview, some of the parents recounted, to Pelley, the slow-motion heartbreak of finding out what had happened to their kids on December 14. Nicole Hockley, Jimmy Greene, and Nelba Marquez-Greene each had a child who survived the shooting, and one who didn't. "Someone said to me, you know, 'I've seen Jake. He's in… he's in one of the other rooms,'" Nicole Hockley remembered, "and that was a relief, you know, a moment of, 'he's okay, and that's okay that he's okay,' and… and a woman asked me, 'What… what classroom was your other child in?' and I said, 'Ms. soto.' and she said, 'I heard she got shot.' and I got… I got really angry at her, and I remember very clearly saying, 'Don't you dare say that to me if you don't know it's true.'"
Jimmy Greene remembered being reunited with his son, Isaiah. "I just went and grabbed him and held him," Greene said, "and he was just crying, 'daddy,' you know, 'there were so many gunshots and,' you know, 'I saw this and I saw that.' So, I just took my son in my arms. He's a big kid; I took him like he was two years old again and held him on my shoulder and was just running from room to room, trying to locate Ana's class."
But neither parent would be reunited with their other child. Governor Dannel Malloy eventually appeared to tell the remaining family members that "if we were in that room, that our child or adult wasn't coming back to us."
There was some more discussion of the changes they'd like to see from Congress, but the real power of this interview was in the way these families remember their lost loved ones, as they described, for Pelley, the ways in which they keep them alive, and keep themselves alive. Mark Barden summed it up, wistfully and poetically, by telling Pelley "So, here we are. We're left with pictures and dreams and memories, and any little shred of evidence of their physical time with us. And we just have to ask people to remember that. To please think about that always, because now is the time to turn this tragedy into the place where we evolve as a society, and look to any possible way you can do that."
60 Minutes interview, part one:
60 Minutes interview, part two:
Have a tip we should know? tips@mediaite.com