WATCH: President Obama's Full Remarks for 50th Anniversary of March on Washington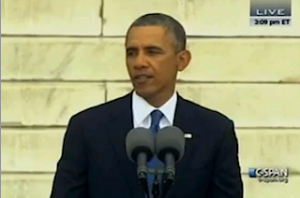 President Obama delivered the closing remarks at the 50th anniversary of the March on Washington Wednesday afternoon, putting the civil rights movement in a 21st century context and offering an overall hopeful message for the future in a nearly 30 minute long speech. The president began by quoting from the Declaration of Independence about all men being "created equal," and explaining how those unfulfilled promises resulted in the March on Washington in August, 1963.

Remembering Dr. Martin Luther King, Jr.'s oratory that day, Obama said, "His words belong to the ages, possessing a power and prophecy unmatched in our time." But Obama also paid tribute to the "ordinary people" who attended the march fifty years ago, people who's names are not in the history books and were never on TV. "They had every reason to lash out in anger or resign themselves to a bitter fate, and yet they chose a different path," Obama said.
The president listed advancements in equality for all people over the last fifty years, using the the refrain "Because they marched." After mentioning various "changes" for the better, Obama ended with, "And yes, eventually the White House changed" to cheers from the crowd.
"To dismiss the magnitude of this progress" or to "insist that nothing has changed," Obama said, would "dishonor the courage and the sacrifice of those who paid the price to march." But at the same time, he said that the pretend that there's no more work to do would do the same "The arc of the moral universe bends towards justice," Obama said, quoting King, "but it does not bend on its own."
President Obama called on the American people to have the "courage" to tackle the problems that still plague this country. "That's where courage comes from—when we turn not from each other or on each other, but towards one another," he said.
He ended his speech by hailing the ordinary Americans who are still "marching" today, by fighting for equality in their own individual ways, from the "mother who pours her love into her daughter so that she grows up with the confidence to walk through the same doors as anybody's son" to "the father who realizes the most important job he will ever have is raising his boy right."
Overall, rather than speak to Congress about specific plans or prescriptions for the future, President Obama used the 50th anniversary of the "I Have a Dream" speech to speak directly to the American people about what they can do to advance King's dream.
Watch video below, via C-SPAN, in three parts (transcript below that):
Read the full transcript of President Obama's speech below:
[photo via screengrab]
—
>> Follow Matt Wilstein (@TheMattWilstein) on Twitter
Have a tip we should know? tips@mediaite.com